Best Light Therapy Glasses and Wearables for SAD [2023 Guide and Review]
Disclosure: This article contains affiliate links, meaning we may earn commissions if you purchase something through the links below.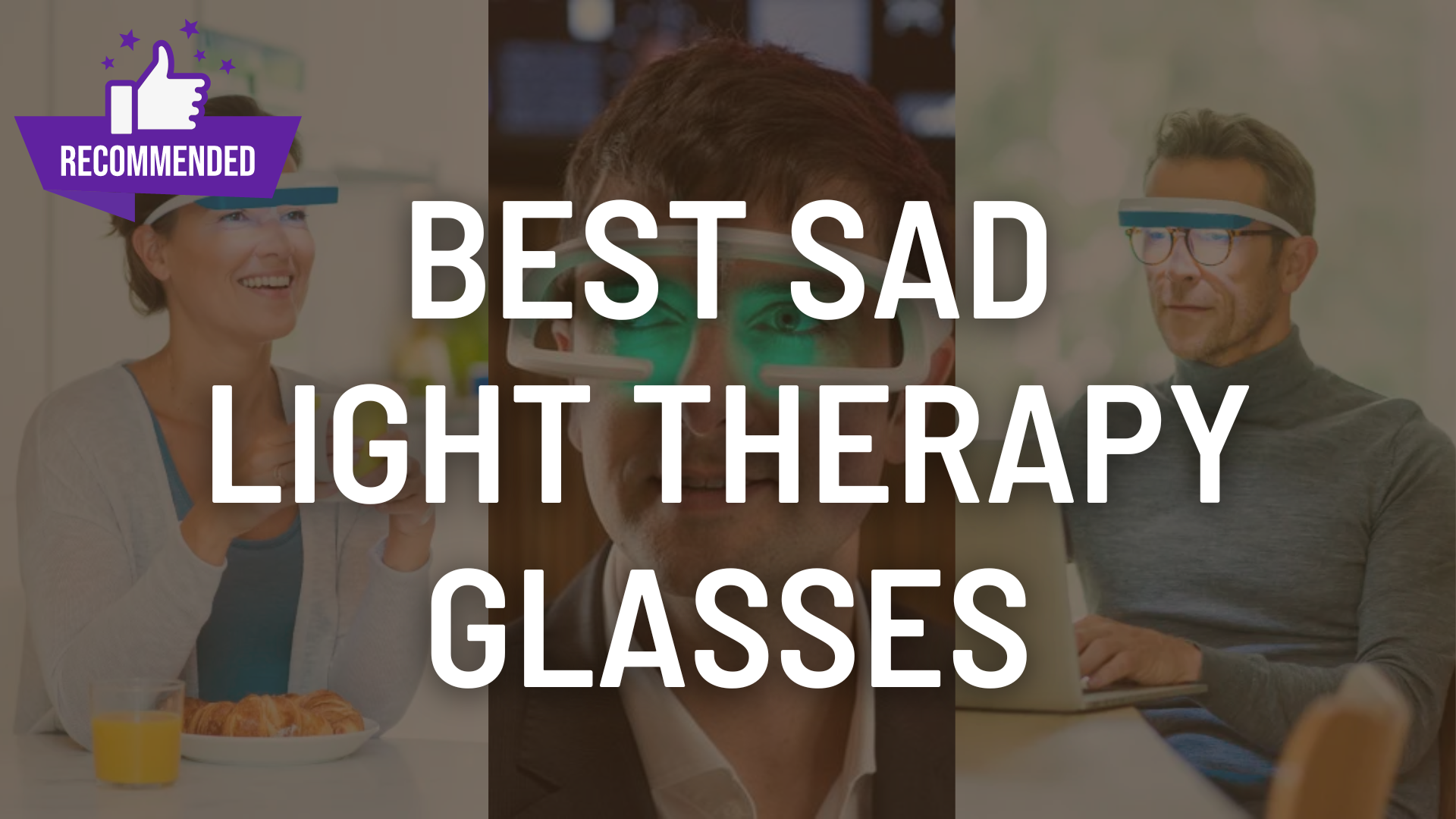 This guide is meant to serve as a comprehensive review of the best SAD light therapy glasses available in 2021 to treat Seasonal Affective Disorder, improve mood, and help regulate sleep patterns.
When evaluating each pair of SAD glasses we took five factors into account: Design, Comfort, Quality, Features, and Price.
The best pair of SAD light therapy glasses is the Pegasi 2. It was a tough choice between them and the glasses from Re-Timer and AYO, but ultimately, the design and positive results seen from the Pegasi 2 unit were the deciding factors.
BEST OVERALL
PEGASI 2 – Smart Light Therapy Glasses
Check Prices
Pros
✔
Innovative Design
✔
Bluetooth 4.0 Enabled
BEST VALUE
Re-Timer Light Therapy Glasses
Check Prices
Pros
✔
Recognized Leader in Light Therapy
✔
300 & 500 Lux Settings
MOST COMFORTABLE
AYO – Premium Light Therapy Glasses
Check Prices
Pros
✔
Personalized Programs
✔
Great for Jet Lag
Best SAD Glasses Reviews
SAD Light Therapy Glasses vs Boxes
When deciding what device works best for you and your SAD light therapy treatment, it's important to know your options.
The most common device used for SAD light therapy is a box, sometimes referred to as a lamp.
These boxes emit a bright, white light that measures in at 10,000 lux (approximately 20 times greater than regular indoor lighting).
Because of this high intensity, it is recommended your sessions last 20-30 minutes and that you remain at least 16-24 inches away from the device at all times.
The pro of using a light therapy box is quicker session times, the con is that you must remain seated the entire time.
The newest device used for SAD light therapy comes in the form of glasses.
These glasses emit a softer, blue-green light that is much less intense on the eyes, measuring in at 500 lux.
Because of the lower intensity, your therapy session should last 30-60 minutes with no breaks in wearing the device.
The pro of using light therapy glasses is that they are portable, the con is that your sessions will be longer.
Best Light Therapy Glasses
Pegasi 2 Smart Light Therapy Glasses (Best Overall)
Pegasi has produced a really innovative product with their Pegasi 2 light therapy glasses, and we had to reward them with our best overall award.
POSITIVES
Very cool looking

Bluetooth 4.0

Heavy blue light mix
NEGATIVES
More expensive than alternatives
You will feel like you are jumping into the future when you put on these glasses. They sport a unique flat LED panel design that looks like you just stepped into your favorite sci-fi movie.
Pegasi didn't just make a sleek-looking device, they also made a really functional one as well because these glasses are really comfortable.
Not only do they look cool and feel great, but the Pegasi 2 has Bluetooth 4.0 built into the device. What this means for you is that you can power on/off the device and control the light intensity directly from your smartphone. Pretty nifty!
The Pegasi 2 uses a blue/green light mix that leans more heavily toward the blue wavelength. While other light therapy devices use a green/blue mix or just white light, most users claim to prefer blue light.
The positive results obtained by this unit are universally touted, and if you are looking for a top-of-the-line solution to correct sleep patterns and improve your mood then these are the best SAD light therapy glasses available.
Bonus: The Pegasi 2 has a collapsible frame making it easier to take your glasses with you and perform light therapy where ever you may travel.
Luminette 3 Light Therapy Glasses (Runner Up)
The best overall runner-up award goes to the Luminette 3 SAD light therapy glasses. These are the updated version of the wildly popular Luminette 2 series.
POSITIVES
Variable intensity settings

Can wear glasses or contacts

Lightweight
Most people will often compare these SAD light glasses to the Pegasi 2 glasses because they are so similar in price and features. The fact is that there is very little difference between them.
Just like the Pegasi 2, the Luminette 3 has three light intensity settings (500,1000,1500 Lux). This allows you to start out your therapy at a low intensity and work your way up to a higher intensity session.
The Luminette 3 however uses white light blended with blue light rather than a green/blue light mix. Everybody reacts differently to each type of light, so naturally, reviews will vary as to which set of glasses garners better results.
Thanks to its patented illumination system, Luminette provides ideal eye exposure while keeping your vision totally free. If you wear glasses or contacts you can use these SAD light glasses without having any impact on your vision.
The construction of the Luminette 3 is much improved from the previous model. It is not only thinner but also lighter as well, which leads to improved comfort.
Bonus: A single charge with the included micro-USB cable lasts 10 full sessions.
Re-Timer Light Therapy Glasses (Best Value)
It was a close race, but the best value for a pair of SAD light therapy glasses goes to Re-Timer.
Currently, the Re-Timer light therapy glasses are around $30-40 less expensive than their competitors, but there are also so many other reasons why this pair of glasses is an amazing purchase.
POSITIVES
Inexpensive

Very comfortable

Soft nose piece
First of all, Re-Timer is basically considered the gold standard of SAD light glasses. They were one of the original companies to put out light therapy glasses, and are broadly recognized as the leader in SAD light therapy, selling glasses in 46 countries around the globe.
This set of glasses uses a green/blue light blend which is generally considered much safer than just white light.
Given that the addition of green light is so effective, you only need 500 Lux at the eye with these glasses as opposed to 10,000 Lux with a white light box. However, if 500 Lux is too strong, there is a setting that only emits 300 Lux.
As far as comfort is concerned, the Re-Timer glasses are also one of the most comfortable options available. Not only is there an extremely soft nose piece, but they can be worn over existing eyewear, so you can perform your daily tasks with the unit on.
Bonus: Re-Timer light therapy glasses come with a personalized concierge service. Call their phone number and they can help customize a program to improve seasonal depression, sleep, reduce jet lag or prepare for night shift work.
AYOlite Premium Blue Light Therapy Wearable (Most Comfortable)
Comfort is always one of the most important factors when deciding to purchase an item that you have to wear. These AYO Premium Light Therapy Glasses do not disappoint in this regard.
POSITIVES
Lightweight

Can choose different programs

Soft nose piece
NEGATIVES
Have to use a companion app
These glasses are ultra-lightweight and feel the most comfortable of all of the SAD light glasses reviewed, especially after wearing them for an extended period of time.
One thing that is unique about the AYO glasses is that they can only be operated by using the goAYO companion mobile app. Inside the app, you can decide on light intensity and program type(sleep, energy, or travel).
Where these glasses really set themself apart from the competition is the method they use to help combat jet lag.
When you select the Travel/Jet Lag program you will be asked to provide your travel itinerary (departure destination, time/date and arrival destination, time/date).
Based on your user profile and flight itinerary, the goAYO companion app will provide you with a personalized schedule of when to use AYO and when to avoid bright light.
The unique features and unsurpassed comfort should definitely make the AYO one of the top contenders for the best SAD light therapy glasses.
Bonus: These ultra comfortable light therapy glasses claim that you can adapt to a new time zone up to 3 times faster by using their customized settings in the goAYO app.
Amzcool Light Therapy Glasses (Best Budget Pair)
The best budget SAD light therapy glasses go to a relatively new kid on the block that is priced at over half the price of the other glasses reviewed.
AMZCOOL has released a very budget-friendly pair of light therapy glasses that tries to capture the entry-level SAD light market.
Since these glasses are relatively new, there isn't a lot of feedback quite yet about their durability, but they do feel sturdy to the touch even though they are extremely light at just 75 grams.
The AMZCOOL glasses come with a single light intensity setting of 500 Lux so you won't be able to increase the brightness in future sessions. That being said, this is the recommended setting for most light therapy glasses.
These glasses use the green light spectrum which is widely considered the safest light as it doesn't need to be as intense to be effective.
For the price, the AMZCOOL glasses may be worth a try if you simply want to see if SAD light therapy is for you.
Bonus: One really cool feature is the two gear adjustable light setting. Depending on the level of light in the room you can adjust the delivery pattern for low or bright light environments.
Best Budget Pair
Amzcool Light Therapy Glasses
Positives
Budget Friendly
Safe green light
Negatives
Only single intensity setting
---