How to Choose the Right Smart TV (Buying Guide + Tips) [2023]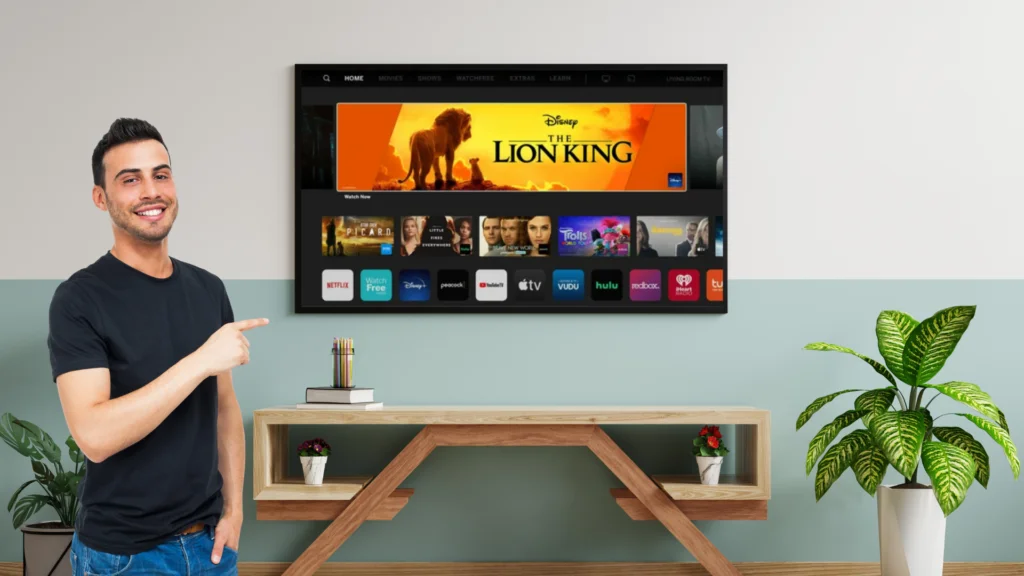 The development of smart TV technology has reached a point where even inexpensive televisions have a really good picture quality. 
This doesn't mean however that you should rush out and purchase the first TV you see on sale. Take your time and do the proper research to find the smart TV that is right for your situation.
Thankfully for you, we've compiled a complete guide to purchasing a smart TV in 2023, including our recommendations and tips for getting the most bang for your buck.
Which Smart TV Should You Buy? (Best of 2023)
In 2023, there are many excellent televisions on the market, but if you want to save time we've narrowed it down to a few top picks.
If you want to get the most out of your money, one of the smart TVs listed above is your best bet; however, if you want more information on how to select the best smart TV for your needs, keep reading this post.
How to Choose the Best Smart TV
What is a Smart TV?
Unless you've been living under a rock, you should be familiar with what a Smart TV is, but just in case here's a quick rundown…
Unlike a traditional tv set, a smart TV has an operating system built right in, so viewers can watch online content without needing to connect a computer or gaming console.
Those who like to catch up on the newest episodes of their favorite shows on streaming services often purchase smart TVs.
If you're looking to upgrade your TV in 2023, we've compiled a list of the top brands so you'll know where to look.
What is the Best Smart TV Brand?
Finding the best TV brand and where to begin when shopping for a new TV can be difficult.
A prestigious brand name doesn't always equate to a quality TV (more on that later).
A few low-cost TV manufacturers are starting to gain popularity and frequently develop models that outperform more expensive more well-known brands
Vizio
Vizio is probably the most well-known smart TV brand, and for good reason!
The company's televisions are among the most popular in the world, especially in the United States, and the brand competes successfully with industry leaders by offering a winning blend of robust functionality and affordable cost.
Before making a decision on your next television purchase check out our helpful posts about Vizio Smart TVs below 👇
LG
Through our research, we have determined that LG makes the best OLED TV on the market today (LG C2 Series OLED evo), so it's a no brainer that they would make our list of top Smart TV brands.
In the world of Smart TVs, LG is certainly among the most widely recognized names.
They've been around for a while, and their prices fall somewhere in the middle, between those of luxury labels and those of discount ones like TCL.
You will often pay a bit more for an LG TV but what you get in return is the comfort of knowing that you are purchasing a well-built unit that will often last you over a decade.
Samsung
The televisions produced by Samsung, a famous electronics manufacturer, are widely regarded as some of the finest currently available and are frequently found to feature the most cutting-edge smart TV technology.
A Samsung TV has superb picture quality and functionality, but beware…it may be costly.
If you want a top-tier TV and have the funds to buy one, a Samsung could be the best option for you.
What Features Should You Look for When Buying a Smart TV?
A smart TV might be a great investment, but it's easy to make a poor purchase decision if you don't know what you're doing.
This section of our buying guide will cover the most crucial features to look for in a smart TV before making a purchase.
Screen Size
If you're in the market for a new smart TV, it's important to give some thought to the screen size you want because the price can vary widely depending on factors like screen size and resolution.
First identify the proportions of the room in which you plan to house your smart TV.
Next, consider the type of watching experience you want while keeping in mind that the display size should not be so large that it overwhelms the space.
Remember, bigger may seem like it's better, but a TV that is placed to close to the viewer can cause eye strain and even damage.
If you are unsure about how far away you should sit from a particular screen size of television, see this TV distance guide.
Resolution
In the past few years, there has been a significant improvement in screen resolution.
Currently, you can pick between Ultra HD (commonly known as 4K) and HD.
TVs with HD resolution have 1920 by 1080 pixels, whereas Ultra HD TVs have 3840 by 2160. This means that the resolution of an Ultra HD TV is four times that of a standard HD TV.
But your choices don't just stop there…
What about HDR?
And how about the new 8K TVs hitting the market?
So, when it comes to the resolution of the screen, what exactly should you be searching for?
Don't worry, we are going explain all of this in detail below 👇
1080p(HD) vs 4K
There is really no point in purchasing a 1080p smart TV in 2023, as 4K TVs are basically the same price with 4x the resolution.
Most streaming services provide some 4K content, so you wouldn't want to miss out on a superior viewing experience just to save a miniscule amount of money.
4K vs 8K
8K TVs are relatively new to the consumer market, and as such they are accompanied with a ridiculously high price tag.
The fact that there is no native 8K content available makes it even a harder pill to swallow.
Stick with a high quality 4K resolution smart TV and take a look at the 8K sets in a few years when the prices drop to current 4K levels.
HDR
High dynamic range (HDR) TVs can make pictures with a lot more brightness and contrast than regular TVs, as long as they are supplied with HDR content that has this extra brightness information.
Most TVs come with HDR technology on board.
When looking at the specs on a new smart TV, you will see abbreviations like: HDR10 (the industry standard), Dolby Vision, HDR 10+, and HLG
These are all various HDR formats, and any one of them is suitable for your purchase.
Panel Technology
For quite some time, liquid crystal display (LCD) has been the standard for flat-panel televisions.
But when purchasing a TV in 2023 you will most likely be comparing Smart TVs that are boasting either OLED or QLED technology.
So, what's the difference between the two? And how are they both different than LCD screens?
Well…it's complicated.
OLED
OLED is an abbreviation for organic light-emitting diode and it's a completely unique technology from the standard LCD TVs.
Among the many advantages of OLED displays is the consistency in picture quality across different panels. Most users give OLED screens from various different manufacturers the same high marks.
Another plus is that due to their emissive nature, OLED TVs are able to totally turn off pixels that aren't being used, resulting in practically unlimited contrast which is a crucial aspect in image quality.
QLED
QLED stands for Quantum Dot LED TV and according to Samsung, QLED is an adaptation of LED LCD in which a quantum dot film is added to the LCD panes.
One huge advantage of having a QLED TV is that they produce the highest level of brightness currently available.
However, for consumers, the most intriguing feature of QLED technology may be how much less expensive large-screen QLED TVs (75″+) are than their competitor OLED.
Therefore, QLED TVs may be the way to go if you're in the market for a new home theater TV or simply want a massive smart TV for your living room.
Refresh Rate
The number of times in one second that the image on a television screen is redrawn is referred to as the refresh rate.
Or, to put it another way, the number of images that can be displayed in a single second.
The faster a picture is refreshed, the more it will assist the human eye in making motion appear smoother and have less flicker.
To begin, it is important that you are aware that the highest possible native refresh rate for a modern flat-screen television is now 120 Hz.
This indicates that it is capable of displaying 120 photos per second.
Therefore, the television that you purchase either has a refresh rate of 120 Hz or the more traditional rate of 60 Hz.
We can there safely assume that a 120 Hz refresh rate TV will provide a smoother picture…but should you need to buy a 120 Hz refresh rate TV?
Although a 120 Hz television has a few advantages, you might not utilize them very often.
The one caveat is if you play a lot of video games…
Playing contemporary games on a 60 Hz TV screen will unquestionably result in a decreased level of smoothness, therefore if you enjoy gaming, a 120 Hz refresh rate is a necessity.
HDMI Connections
When examining HDMI connections, you should not only focus on the quantity (you should aim to acquire at least three), but also the specs.
If you want to ensure the greatest level of compatibility with existing and future source devices, it is best to choose a 4K television that has HDMI ports that are version 2.0 rather than version 1.4, as this is the standard for most 4K televisions.
You will also need at least one HDMI 2.1 port in order to make sure your setup is ready for 8K content and ensure that you will be able to play 4K games at a high frame rate (120Hz).
Frequently Asked Questions
Here are answers to some of the most frequently asked questions about buying a new smart TV 👇
Will TV prices drop in 2024?
The brand new televisions will be offered for sale at full price during the course of the next few months; however, they will be eligible for significant price reductions in the fall, immediately prior to Black Friday, which is traditionally when discounts are at their peak.
This summer, consumers looking to purchase a new television will be pleased to learn that 2022 televisions are frequently still on sale.
Is it worth buying a 4K TV?
4K resolution is gradually on a path to replacing the 1080p resolution as the new norm. This is due to the increasing availability of 4K content as well as the decreasing cost of 4K screens.
It is absolutely worth it if you have the financial means to get the necessary hardware to run 4K smoothly.
Which is better OLED or LED?
OLED televisions continue to offer superior picture quality compared to LED televisions, despite the fact that LED technology has undergone a number of advancements in recent years.
OLED displays are lighter, slimmer, use less energy, provide the optimum viewing angle by a significant margin, and, despite being slightly more pricey than LCD displays, have seen significant price reductions in recent years.
Is QLED worth the extra money?
In general, a QLED TV will have the ability to display colors more accurately than a standard LCD TV. This will be accomplished by increasing the contrast between lights and darks while still reliant on an LED backlight.
This will result in the display of over a billion different hues and shades of color with intense darks and dazzling lights.
Which is better UHD or LED?
It is vital to keep in mind that Crystal UHD TVs typically have issues with color shifting, despite the fact that LED TVs may have greater screen uniformity issues than Crystal UHD TVs.
Therefore, if you are primarily concerned in bright screens and rich colors, an LED TV can be the best choice for you because their color displays are more vibrant than those of other types of televisions.
Should I buy full HD or UHD?
UHD produces an image that is, by all accounts, of higher quality and higher resolution than Full HD does (1080p). The price of ultra-high-definition content is typically higher.
The viewing experience provided by Full HD is completely satisfactory, making it a good choice for those whose primary concern is cost rather than resolution. The experience is slightly improved with UHD (4K), particularly when viewed on larger displays.
In Conclusion…
We hope this article has helped shed some light on some of the more recent advances and jargon surrounding modern televisions.
Congratulations, you are now fully equipped with the relevant information to purchase the smart TV of your dreams!
Read More About Smart TVs
End of content
End of content