How Do I Know if I Have a Smart TV or Not? [2023]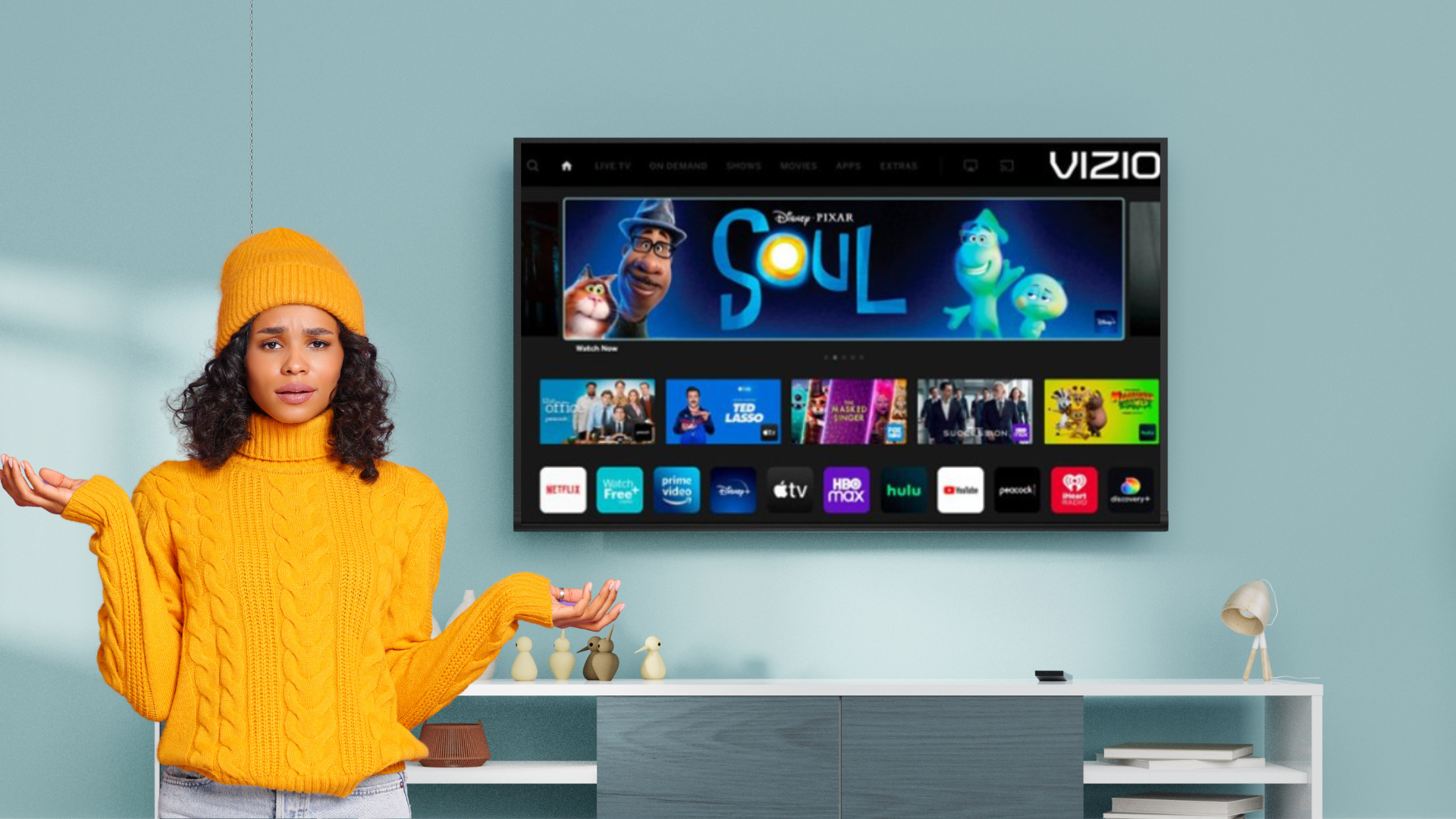 So, you're curious if your TV is a smart TV. Because you can't exactly ask your TV if it's smart, you'll have to come to a conclusion using alternative methods.
Try hitting the Home or Menu button on your television remote to see whether or not your television set is a smart TV. Congratulations are in order if you see a collection of squares that each contain a little advertisement for a different television program or the logos of popular applications like Amazon and Netflix. You already own a television with smart capabilities!
Before you go out and buy a new smart TV…you need to be absolutely certain that the one you presently own is not capable of running smart software.
Here's what we'll be covering:
Methods to Determine if you Have a Smart TV
Don't worry if the method I just described didn't help clear anything up for you. We have a few more ways to determine whether or not you own a smart TV, and we are going to show them to you now 👇
Check connections on the back of TV
Sometimes knowing if you have a smart TV is as simple as looking at the television itself.
Check the back of the television for an ethernet network cable connection (aka CAT5 plug) if you are unsure whether or not you have a smart TV. Having a CAT5 connection is a sure sign that your TV has smart capability.
Look at the remote control
Another simple way to identify a smart TV from its dumber counterpart is to take a gander at the remote control that came with the television.
If the remote control has buttons or displays logos for streaming services like Netflix, Amazon, or Hulu you most certainly have a smart TV in your home.
What is the name and model of your TV?
Does the word "Smart" appear in your TV's model name?
If it does you most likely have a smart TV.
Another trick to try is looking for the work "Roku" in the TV's name.
TCL makes a Roku enabled TV, and if your own that model you can be sure that you have a smart TV.
Use Google…
If all else fails it may be time to use Google to find the answer to whether you have a smart TV.
Simply enter the model number that can be found on the bottom or the back of your TV into Google.
You will probably certainly receive a wealth of information regarding your TV, as well as its capabilities and specifications.
Searching the internet for information about your television can provide you with a lot of helpful details that you may not have known otherwise.
Smart TVs are popular purchases among viewers who subscribe to streaming services in order to watch the latest episodes of their favorite shows.
What Features Make a TV Smart?
So now that you understand how to find out if you have a smart TV, the real question is…what features make a television smart or not?
Internet Connection
Connectivity to the internet is typically regarded as a fundamental component of smart TVs.
This component gives your TV the ability to use the internet to connect to a variety of services and applications, which, in turn, can add additional functionality to the TV as well as new ways to interact with it.
Your TV will be unable to use any of the smart features that it has been programmed with unless it is connected to the internet.
Dedicated App Store
The accessibility of streaming applications is among the most desirable characteristics of smart TVs.
Streaming applications such as Netflix, Hulu, Amazon Prime, Peacock and many others come standard on every smart TV app store.
Some app stores included on various smart TVs include:
LG Content Store
Vizio Store (WatchFree App)
Smart Hub App Store
If you are having trouble navigating the app store software that comes preinstalled on your TV, be sure to consult the user manual for your TV.
Music Streaming
Music streaming makes sense when you consider that you can also watch movies and play games over the internet on your smart TV.
Most smart TVs includes access to music streaming services like Spotify, Pandora and others.
When connected to a soundbar or other home theater sound system, your smart TV has the ability to serve as your home's central music source.
Screen Sharing/Mirroring/Casting
If you want to get the most out of both your smartphone and your smart TV, consider pairing them together.
When you connect your smartphone to a smart TV, you'll have the opportunity to see images, watch movies, videos, listen to music, play games, watch online TV shows, access applications, and more.
There are several different methods in which you can link your mobile device to your smart TV. However, using wireless technology is by far the most common option.
The way in which you connect your phone and TV depends on the models of each of those gadgets that you own.
Voice Control
Many new smart TVs may be controlled by voice commands with a smart remote, thanks to the built-in voice recognition technology.
Amazon Alexa, Google Assistant, and Apple Siri are the most common voice recognition systems compatible with modern smart TVs.
You can access media, receive on-screen responses, manage smart home devices, and more with only the sound of your voice.
Here are just a few examples of voice commands you can give smart TVs:
Switch to ESPN
Turn to channel 701
Increase volume
Switch to DVD Player
Connect to Bluetooth
Turn off TV
Simply hold down the voice button on your smart TV's remote and talk normally into the speaker to provide a voice command.
How to Convert Your TV to a Smart TV
It's never been easier to convert a "dumb TV" into a smart TV.
There are a variety of different ways to breathe new life into your old television and below we are going to outline the most popular solutions 👇
Streaming Media Devices
The path most people take when converting a TV to a Smart TV is to purchase a Streaming Media Device.
These streaming devices come in many forms, but the most common ones that you may have heard of are:
Apple TV
Roku
Amazon Firestick/Fire TV Cube
Google Chromecast
Nvidia Shield TV
All of these devices will let you stream most (if not all) of the popular streaming services. But make sure you check which services are available before you purchase one.
Gaming Console
Your standard TV may be transformed into a smart TV by connecting it to a game console such a PlayStation or Xbox.
Video streaming services are available on these game consoles.
In addition, they offer plenty of hard drive/cloud storage for your old music (think MP3s) and video collections.
Using a gaming console as your primary streaming device has several drawbacks, such as the fact that the controllers are designed more for playing games than for navigating media.
Laptop (or Desktop)
If you don't want to buy a streaming device, and don't have a gaming console, the next best option is to use an HDMI cable to plug your laptop into your TV.
It's as easy as connecting your laptop to your TV via an HDMI cable and mirroring your computer screen to the TV.
You will now be able to play or stream any media that you are able to access on your computer to the television in your home.
Frequently Asked Questions
Here are answers to some of the most frequently asked questions about how to identify if you have a smart TV 👇
What is a smart TV?
You probably already know what a smart TV is unless you've been living under a rock, but in case you don't, here's a quick rundown…
A smart TV, as opposed to a standard television, incorporates an operating system, allowing users to access online content without the need to hook up a computer or gaming console.
When was the first smart TV released?
Even though there had been other innovations that came before it, the very first patent for a smart TV was issued to a French company (called "Fast France Advanced Systems") in the year 1994. However, the very first Smart TV, the HP Mediasmart TV, did not appear on the market until the year 2007.
By 2015, almost all manufacturers of televisions for the home were devoted to exclusively producing smart TVs.
What's the difference between a smart TV and just a regular TV?
A smart TV is capable of doing a lot more than just playing music and streaming videos on demand. This can involve logging into your favorite applications, scrolling around social media, or checking up on the latest sports news.
A conventional television does not often have any computing capacity, which means that it is unable to establish a connection to the internet.
What TVs are considered smart TVs?
Smart TVs are conventional television sets that also have internet connectivity capabilities. The TV itself connects to the internet, eliminating the need for a separate media streamer or game system.
How do I make my TV into a smart TV?
Connecting a streaming device to your television set with the use of an HDMI connection can transform your regular TV into a smart TV.
You could also use the HDMI port on your television to attach an Amazon Fire stick, Chromecast, Apple TV, or Roku and then plug the device itself into a power supply.
Does a smart TV need WiFi?
Yes. A smart TV can connect to your home network by Ethernet cable or its own Wi-Fi connection, allowing you to watch online videos and use other Internet-connected services without leaving your living room.
While 802.11ac WiFi is supported by the vast majority of new TVs, you should keep an eye out for older models that may still rely on the older 802.11n WiFi standard.
What is a non-smart TV called?
Dumb TVs are those that don't have internet connectivity or other "smart" features built in. These are the features that give smart TVs their name. As a result, the term "dumb TV" has evolved to mean any conventional television set.
Do you need cable with a smart TV?
A smart TV's ability to connect to WiFi networks means that it can be used without a cable subscription. Some of these applications are free, while some need a monthly subscription in order to access their library of TV episodes and movies.
Is Netflix free on a smart TV?
No. You can get the app on your smart TV for free, but it will require a paid subscription to use. If you've never subscribed to Netflix before, you can sign up for a free 30-day trial.
What channels are free on smart TV?
Examine the settings of your smart TV to determine which channels, if any, come pre-installed with the device. If they aren't, head on over to the app store for your smart TV and download the ones you wish to use.
YouTube
Crackle
Tubi TV
Pluto TV
NewsON
PBS Kids
Xumo
Crunchyroll
Twitch
IMDb TV
Do you need Roku with a smart TV?
If you already own a smart TV, you don't need Roku. However, if you compare Roku to a regular smart TV, you'll find that it offers more content choices, a better menu, a more ergonomic remote, snappier response time, and a wider selection of apps.
In Conclusion…
As mentioned previously, there are a number of ways to find out if your television is a smart TV.
Here is a summary of the methods to determine whether your TV is smart:
Try hitting the Home or Menu button on your television remote
Check for Cat5 Ethernet connection
Look at the remote control for names or logos
Dissect name and model of TV
Use Google to find out more information on TV brand/model
Find out if smart TV features are included
If all else fails, you can always follow the steps outlined in this article to convert your old television into a capable smart TV!