How to Connect Phone to Smart TV Without WiFi (8 EASY Ways) [2023]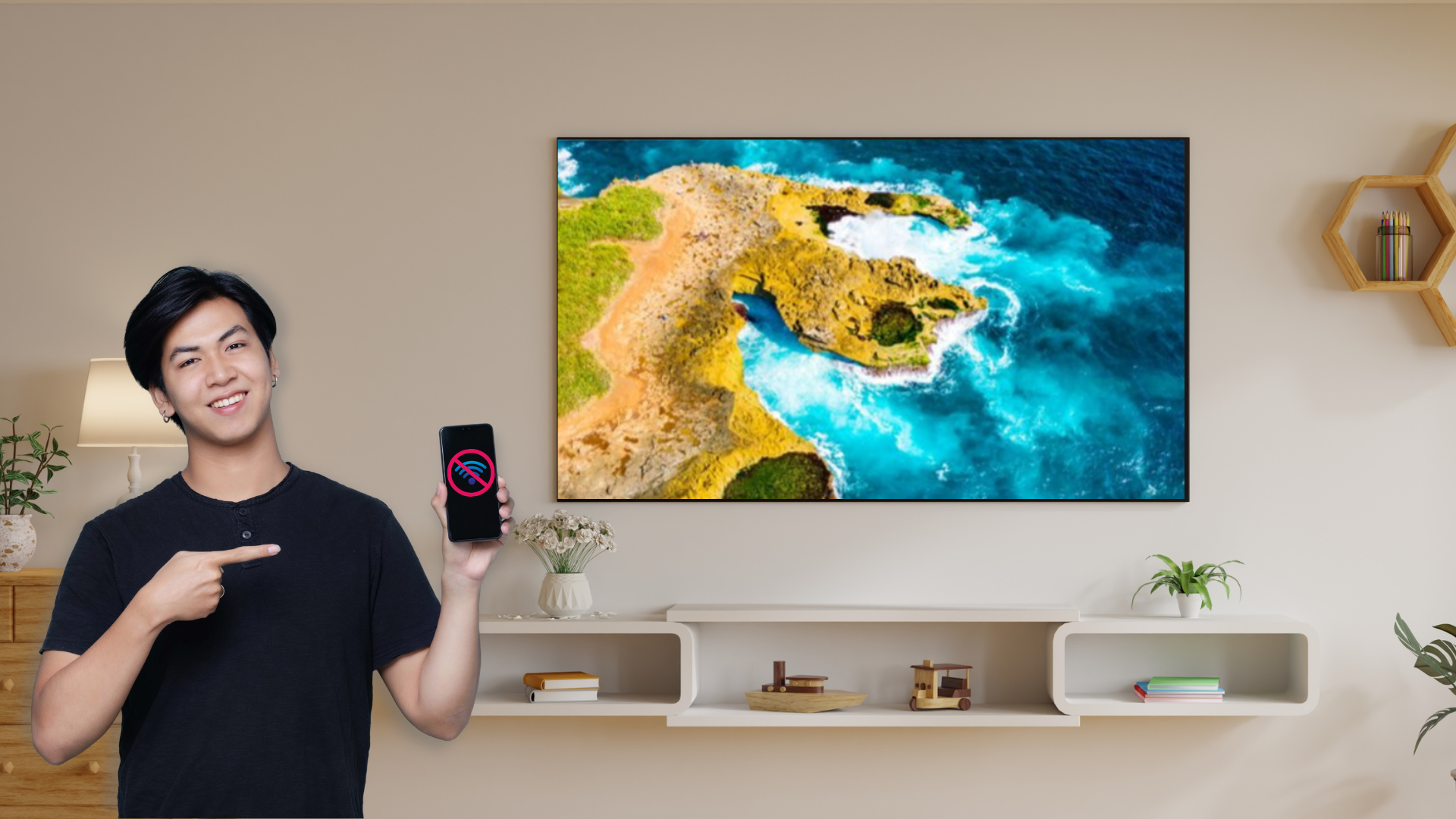 The vast majority of people would rather watch movies and television shows on the large screen of their new smart TV than on their puny mobile phone screen.
I've been using my phone to connect to my smart TV for years, but until recently I didn't know it could be done without WiFi.
In this article, I'll show you how to connect your phone to your smart TV, no matter what kind of device you have.
How to Connect Phone to Smart TV without WiFi
HDMI Cable to USB Connection (Android Only)
Either a USB adapter cable or a cable that goes directly from a USB port to an HDMI port can be used to connect any Android device to your television.
The only thing you'll need to do is put the USB cable into your smartphone and the HDMI end of the cable into the corresponding port on your smart TV.
Without the need for a WiFi connection, you will be able to cast content from your smartphone to a television using this method. You can also watch content from streaming apps like Netflix by using the data from your mobile device.
HDMI Cable to Lightning Connection (iOS Only)
The steps above also work for iOS devices like the iPhone, but you will need a different type of adapter.
You will need an Apple Lightning to HDMI adapter if you want to establish a direct connection between your iPhone and your smart TV.
To use an iOS device, you will only need to put one end, the lightning end, into your iPhone, and the other end, the HDMI end, into the port on your smart TV.
Chromecast
Did you know you can also use Google Chromecast even if you don't have WiFi by connecting it to the ethernet port on your home broadband router?
The steps are simple and all you need is a Chromecast and an ethernet adapter:
Connect the Chromecast to the TV's HDMI port
Connect the Chromecast to your Ethernet adapter using the USB cable that came with it
After that, connect the Ethernet wire to the adapter's opposite end
Now it is no longer necessary to have a WiFi connection in order to use your Chromecast device!
Miracast (Android Only)
If you don't have a Chromecast but still want to stream content from your Android mobile device to your smart TV, Miracast is your best bet.
The technology behind Miracast is known as WiFi Direct.
Miracast can function even without a WiFi signal being present. Instead, it builds its own network.
Miracast is compatible with almost all recent Android devices and most smart TVs, making it a good alternative for connecting your phone to a television.
To connect a smartphone to your TV simply follow the steps outlined below:
Launch the Settings app
To open the menu, tap on Connected Devices
Choose Connection Preferences from the drop-down menu
Select Cast
Scroll through the available options until you discover your smart TV
Select the device with which you want to pair
To complete the setup, you may be required to input a security code
That's it! Your phone is now connected to your smart TV!
AnyCast Adapter (Android Only)
If your mobile phone is Miracast compatible but your smart TV isn't (maybe it's not a smart TV at all), there is still the possibility of using Miracast…but you will need to purchase an adapter.
AnyCast is my preferred hardware Miracast adapter solution.
All you need to do is plug the Anycast adapter into the HDMI port of your smart TV and connect to it using the same steps as above.
The AnyCast adapter is perfect for frequent travelers who want to know they will be able to stream their favorite content from apps like Netflix, Hulu, or even Beachbody on Demand on the road regardless of TV model and WiFi connection.
Peer-to-Peer Airplay (iOS Only)
Peer-to-Peer AirPlay connects your mobile iOS device to a TV without the need for both devices to be connected to the same WiFi network.
Your iOS smartphone will become a temporary WiFi hub, and your TV will connect to it and stream your content.
Here are the steps to connect your smartphone to TV using Peer-to-Peer AirPlay:
Go to Settings >> WiFi
Tap the I icon next to the WiFi network you've connected to
Select Forget This Network
To access the Control Center, swipe up from the bottom of the screen
To activate Bluetooth, press the Bluetooth button
Even if you're not connected to a wireless network, make sure WiFi is turned on
Your iOS device's AirPlay Control will now be displayed
Tap the Airplay Control
Your iOS device may ask for an AirPlay password
On your iOS device, enter the four-digit code
Keep in mind that Peer-to-Peer Airplay isn't the most stable solution for playing music and movies, but it will suffice in a pinch.
Turn on Samsung DeX (Android Only)
If you have a Samsung smartphone, then using it's built in DeX casting platform may be the exact solution you are looking for.
Samsung DeX is a software platform that transforms the experience of using your smartphone or tablet into that of a desktop computer.
It is compatible with practically all of Samsung's flagship mobile devices released after 2017 (including the Galaxy S8).
Samsung DeX uses Miracast technology, so if your smart TV is Mircast compatible or you have an adapter like the AnyCast you can use your Samsung phone to connect to your TV without an internet connection.
Mobile Hotspot
If all else fails, you can use the mobile hotspot feature on your smartphone to create a WiFi network that uses your phone's data connection to stream content to your smart TV.
The capability to turn your phone into a mobile hotspot and stream media is almost always included with every phone plan.
To set up a personal hotspot with an iOS device:
Go to Settings
Select Settings >> Cellular >> Personal Hotspot or Settings >> Personal Hotspot
On Android devices:
Launch the Settings app
Navigate to Network & Internet
Choose Hotspot & Tethering
Select WiFi Hotspot
You should be aware that depending on the plan that you have with certain providers, such as T-Mobile and Verizon, the maximum resolution that your video content can stream at is 480p, which is considered standard definition.
Frequently Asked Questions
Here are answers to some of the most frequently asked questions about how to identify if you have a smart TV 👇
Can I connect my phone to TV without WiFi?
You can mirror the display of your mobile device to your smart TV without the need for a wireless network or an active internet connection. One can get the same effect by using an HDMI cable.
How can I mirror my phone to my TV without internet?
Ways to Wirelessly Stream from Your Android Device to Your TV:
Screen mirroring with a Smart TV's Built-In Function; Screen mirroring using a Chromecast
Make use of WiFi-free app mirroring with the Miracast feature
Using a Bluetooth Dongle to establish a connection
Incorporate ScreenBeam Mini2
Devices having an HDMI port can be linked through HDMI cables
Can you stream to TV without WiFi?
Your TV can be used as a streaming device even if you don't have wireless internet. Chromecast and other popular technologies enable you to establish a personal network so you can cast content from your mobile device to a TV in your home. In addition, a wired HDMI connection between your phone and TV is available.
How do I connect my phone to my TV using a USB cord?
You can connect a smartphone to your smart TV using the following method:
Get the Micro USB cable and Android phone ready to go
Using the Micro USB cord, link the TV to the mobile device
Switch your phone's USB settings to MTP (Material Transfer Protocol) mode
Launch the media player on your TV
To begin, please hit the remote's Home button
Pick Your form of media
Click on the Media Type you prefer: Picture, Sound, or Moving Picture
Choose either Photo or Music or Video, two subfolders will be displayed
Utilize the TV's remote to make your selections. The different media types can be accessed by pressing the corresponding color keys.
In Conclusion…
Depending on the type of phone you have, there are numerous ways to connect it to your smart TV. In this article, we outlined what we believe to be the most accessible ways to stream content from your phone to TV without a WiFi connection.
If you have found a better or easier solution, please let me know in the comments 👇