Are Vizio TVs Good? (8 Reasons they are a Reliable Choice) [2023]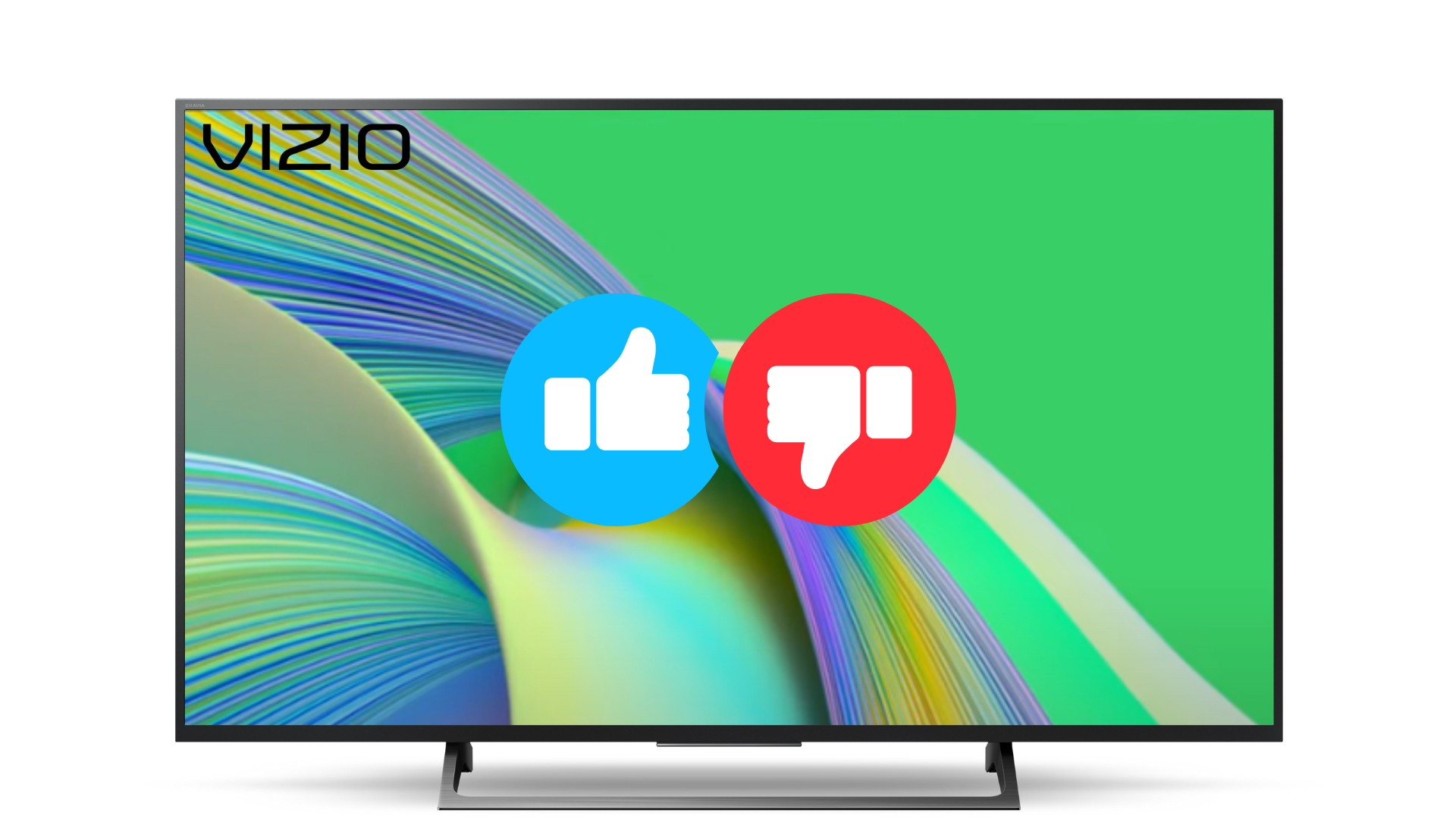 Vizio has been selling its reasonably priced smart televisions to customers for quite some time now. They became popular by offering cheaper products with the same features as big brands.
But if we're being completely honest, there's a possibility that low cost is also synonymous with unreliable quality.
So, this begs the question: Are Vizio TVs good, bearing in mind their relatively low price point?
ℹ Are Vizio TVs Good? Read This First…
Not only are TVs manufactured by Vizio good, but they are also dependable enough for everyday use. These televisions are priced significantly lower than other major brands of televisions, despite having specifications that are nearly identical to those of those brands.
Reasons Why Vizio TVs are a Reliable Choice
The TVs produced by Vizio are always current in terms of the most recent technological advances. As an illustration, nearly all of the most recent series incorporates both quantum dots and OLED display tech.
The D series features an IQ active processor, which allows for improved picture processing capabilities. This processor is available in the D series. The P series possesses the same characteristic, and in addition, it supports a resolution of 4k and a refresh rate of 120Hz.
This means the response time will be faster, the input lag will be lower, the viewing will be colorful, and the pictures will be very bright.
Nevertheless, there are a few considerations that will help you choose the Vizio TV series that is most suited to your requirements. Continue reading to find out more 👇
1. Very Cost-Effective
Vizio TVs have reasonable prices, yet despite this, they provide a great deal of value for the money because of the multiple advanced features they offer to consumers.
Considering how affordable Vizio TVs are, you might end up being shocked by how good their quality is.
Vizio TVs are an excellent choice if you are interested in purchasing a television that provides the most bang for your buck.
They are built to last and come with high-end specifications at an affordable price If you are interested in purchasing a new television, you should think about getting a Vizio.
Vizio TVs are among the most cost-effective Smart TVs televisions available on the market today.
2. Impressive Picture Quality
It should be noted that customers of Vizio TVs benefit from exceptional image quality.
Even though its entry-level V Series doesn't quite have as many features as some of its rivals, it is still able to give them a run for their money when it comes to the quality of the pictures it produces.
The visual quality of the V Series is comparable to that of some of the costliest TVs, but the price point of these televisions is much more reasonable.
You will be able to appreciate a picture that is incredibly clear thanks to Vizio's use of a 240Hz panel speed, which eliminates screen lag as well as blurring.
This is especially helpful while viewing entertainment with a fast-paced narrative, such as action movies or live sporting events.
Quantum dot technology, which is used in Vizio TVs, is one of the most significant improvements made in their more recent models. This technology helps improve the color palettes.
3. Extreme Durability
Although Vizio is known as a more affordable brand, the longevity of its televisions cannot be denied.
It is possible for it to compete successfully with more well-known models and brands on the market provided that it is used correctly and maintained properly.
If you treat your Vizio TV with the care and maintenance it deserves, you can expect that it will last just about as long as other, more expensive brands of televisions.
The only thing that is required of you is to treat it with care:
Be sure to keep the screen of your TV clean on a consistent basis.
Turn off your Vizio when not in use. If you don't, you may harm it.
Your Vizio TV will continue to serve you well for a very long time if you make the effort to properly care for it.
4. High Resolution/Color Accuracy
Vizio is well-known for manufacturing televisions that have some of the best color and resolution in the industry.
But in order to achieve optimal picture quality you must configure your television's visual settings.
There are three different default picture modes available on Vizio Smart TVs:
Normal
This picture style is appropriate for usage in typical and routine situations.
It has the lowest degrees of brightness and black, the image does not have a lot of depth, and you can easily see the individual pixels when there is a static background.
Vivid
The image that is seen on your TV will have improved color as well as contrast when you switch to this setting.
In this environment, Vizio TVs provide the brightest output along with colors that are vivid.
The fact that it operates poorly in dimly lit environments is the most significant disadvantage of using this mode.
Calibrated
When it comes to providing accurate color reproduction for images, videos, and games, this is the best picture option that Vizio TVs have to offer.
Because it has the lowest input lag possible, the viewing experience is more fluid and enjoyable when playing games on it.
You should keep this picture setting whenever you watch movies, TV shows, or sports on your television.
5. Excellent Sound Quality
The variety of audio configurations that may be selected from is one of the many appealing aspects of Vizio televisions. Because you have access to such a wide variety of sound settings, you are able to entirely alter the way the TV sounds at your disposal.
However, out of the box the sound quality of a new Vizio TV may not always be up to par. If that's the case, you can change the sound settings.
The Audio Settings menu on a Vizio TV lets you choose from a variety of different sound settings.
We'll show you what settings we like to use below:
Volume Leveling – OFF
Lip Sync – Match display image to audio
Analog Audio Out – FIXED
Surround Sound – OFF
Balance – L/R EQUAL
Digital Audio Out – PCM
Equalizer – DEFAULT
(Please keep in mind that your Vizio TV might not have all of these settings. Depending on the model, there are small differences.)
6. SmartCast
The market for connected TV is continuously expanding, and Vizio is currently one of the most significant players in this space.
Vizio Smart TV users can have access to a wide variety of streaming content by utilizing the SmartCast operating system, which powers all of their current units.
SmartCast is Vizio's operating system. It is their built-in-house solution that leverages both Chromecast and Apple AirPlay to allow users to stream content.
Users will find all of the favorite streaming apps available on SmartCast including (but not limited to):
Amazon Prime
Netflix
Hulu
Disney+
Parmount+
HBOMax
Tubi
Peacock
Navigating SmartCast is as simple as using your Vizio remote to type (or speak) your way through the intuitive interface.
7. Enhanced Gaming Features
There is a fantastic range of TVs for consumers shopping on a budget available from Vizio, as well as various models that are ideal for gaming.
Because every Vizio TV comes equipped with a Game Mode, these televisions are perfect for playing video games.
Vizio TVs are known for their low input lag which statistically should help anyone become a better gamer.
In order to lower the input lag on your Vizio TV:
Turn on Game Mode
Disable any reduction features (Noise/NR/Mosquito/MPEG)
Disable motion enhancement modes (Clarity/Motion/Smoothing)
(There may be some variation in the titles given to the different functions and modes between the various Vizio models. If you require further explanation, please refer to the owner's manual for your television.)
8. Easy to Setup
The process of setting up a brand new Vizio Smart TV only takes 15-20 minutes and dead simple thanks to their automated setup guide that walks you through each step.
In order to setup your Vizio TV you will need to have:
Audio/Video cords to link your Input/Output devices
A WiFi network in the home that is operational and has previously been set up
Check that you know your WiFi password
Once you are finished programming your TV, select the Exit option to return to the main menu.
Do Vizio TVs Last as Long as Other Brands?
Yes! Vizio TVs are known to last as long as TVs from bigger brands.
Expect your average Vizio TV to last between 5 and 8 years if you turn it off for a handful of hours during the day.
If you leave your Vizio TV on all day, you can expect it to last 2 years less than average.
What Are the Most Common Problems with Vizio TVs?
While Vizio makes a good quality TV that is considered highly reliable, there are a few common problems that may show up from time to time…
Won't turn on
Doesn't connect to WiFi
Sound not working
Display flickers
"Black Screen of Death"
SmartCast won't load
TV turns off by itself
Netflix app isn't working
Blinking on and off
Which Vizio TV Models are the Most Reliable?
Even though every Vizio TV is known for its dependability, we feel compelled to highlight the top two Vizio TV series that are now on the market.
Vizio OLED 4K Series (2022)
The Vizio OLED is the most expensive model of television produced by the budget brand Vizio. It is also the company's first attempt to produce an OLED television.
It has the unique capability to turn off pixels individually, resulting in a contrast ratio that is both infinite and sharp.
This television has a response time that is close to instantaneous, and it displays motion very clearly with very little to no blur.
Because of its wide viewing angles, the Vizio OLED 4K is an excellent choice for individuals who frequently entertain guests in their homes to watch movies or sporting events.
This TV does a decent job of handling reflections, despite the fact that it doesn't get very bright.
The HDR performance is better than average because it preserves a wide color gamut, but the highlights do not have enough pop.
While input lag is relatively low, it has room for improvement.
Overall, the Vizio OLED 4K series offers amazing visuals while being extremely reliable.
Vizio P Series Quantum X (2022)
Consider the Vizio P Series Quantum X if you're seeking for a solution that's not only more cost-effective but also performs very well when it comes to gaming.
It has a VA panel that has a high contrast ratio, and the Quantum X also includes local dimming that improves contrast. Both of these features are included in all units.
This Vizio TV is also capable of dealing with glare without any problems. HDR material does a good job of bringing out the highlights.
The P Series Quantum X has a reduced input latency, a rapid reaction time, and a 120 Hz refresh rate for intense gaming, which is why this TV is so highly recommended for gaming.
In addition to that, it supports Variable Refresh Rates and has an Auto Low Latency Mode. HDMI 2.1 is also included.
The P Series Quantum X may also be used without any issues as a computer monitor since it is capable of handling the standard resolutions and comes loaded with the appropriate chroma 4:4:4, which improves the readability of text.
The Quantum X has limited viewing angles, which is one of its only drawbacks.
Vizio TV Warranty
Every Vizio television comes with either a one-year guarantee from the manufacturer for use in a residential setting or a ninety-day warranty period for use in a business setting.
Check the product information page for your model on the Vizio website, look for the guarantee printed on the box, or get in touch with Vizio technical support to find out if this guarantee applies to your equipment.
Frequently Asked Questions
Here are answers to some of the most frequently asked questions about the reliability of Vizio TVs 👇
Are Vizio TVs poor quality?
No. Customers of Vizio TVs benefit from exceptional picture quality. Even though this brand doesn't quite have as many features as some of its rivals, it is still able to give them a run for their money when it comes to the quality of the pictures it produces.
Do Vizio TVs last long?
Yes. The longevity of Vizio televisions is said to be comparable to that of larger television brands. If you turn your Vizio TV off for a few hours each day, you can expect it to last anywhere from five to eight years. It is reasonable to anticipate that the lifespan of a Vizio TV will be reduced by two years if it is left on continuously throughout the day.
Why are Vizio TVs so cheap?
Businesses such as Vizio do not have to turn a profit on each and every television set that they sell. It is possible for Vizio to monetize its smart TVs by collecting data, advertising, and selling content directly to consumers so that these TVs can be sold for less than the full retail price of a traditional TV.
Is Vizio or Samsung better?
The conclusion reached by our team of industry professionals regarding the Vizio vs. Samsung debate is that Samsung is the superior brand. This brand offers televisions of a higher quality and with a greater variety of viewing angles.
Is LG TV or Vizio better?
In comparison to the Vizio V Series, the LG UN6950 offers a marginally superior experience overall. The LG has a significantly faster response time and a significantly brighter display in both SDR and HDR. However, because of its higher contrast ratio and superior black uniformity, the Vizio is the preferable option for use in environments with low levels of ambient light.
In Conclusion…
Vizio TVs provide a great deal of value for the money as the brand emerges as a respectable choice for consumers shopping on a budget.
The dependability of Vizio as a brand is generally excellent; yet, the experience of each individual user might vary, and these differences can also be attributed to the manner in which the product is utilized.
Overall, the dependability of a Vizio TV is comparable to that of any other brand, but the price is far lower than that of other leading TV manufacturers.
As a result of this, our staff has come to the conclusion that Vizio televisions are a worthwhile investment that every customer who is thinking about purchasing a television should investigate.