How to Reset Vizio TV Without Remote (4 QUICK Fixes) [2023]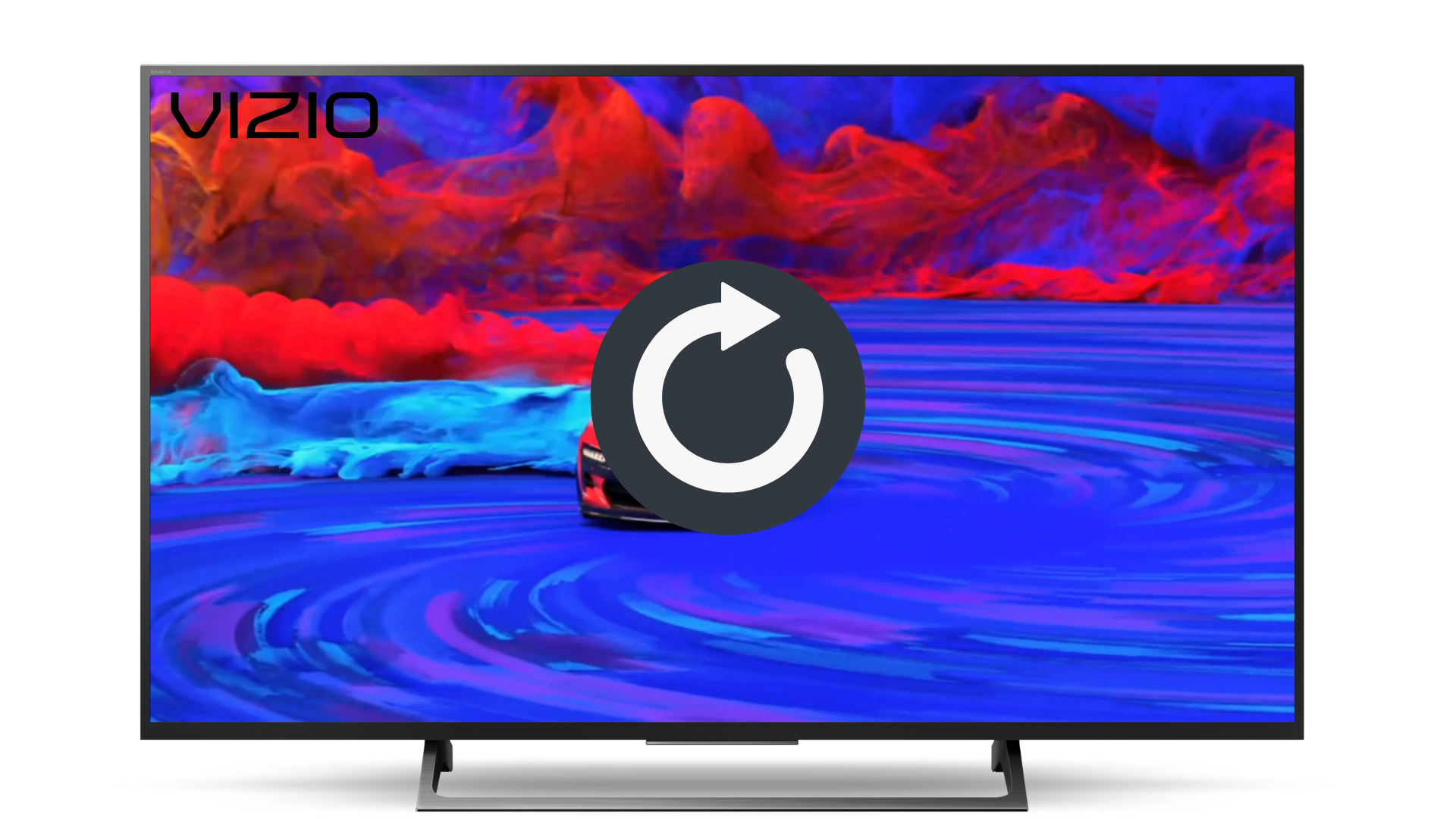 People who are looking for a new television for their homes frequently go with Vizio models because they are dependable and affordable.
But just like any TV brand, they need to be reset every so often.
Using the Vizio's dedicated control, resetting the TV is easy. But don't fret if you can't find your remote or it isn't working; we'll show you how to reset your Vizio TV without the remote.
How to Reset Vizio TV Without Remote
In the absence of a remote control, it is possible to reset a Vizio television by turning it on and then holding down the Volume Down and Input buttons on the television for a period of 15 seconds. You will then be prompted to press and hold the INPUT button for the full ten seconds when requested to do so. After that, the TV will reset and begin operating normally again.
Keep in mind that resetting your TV by pressing the Input button while simultaneously lowering the volume is not guaranteed to work the first time.
It is possible that you will need to navigate the process multiple times to get the desired outcome.
If this method doesn't work or you don't have physical Input and Volume buttons on your television, then you follow the exact instructions below to reset your TV 👇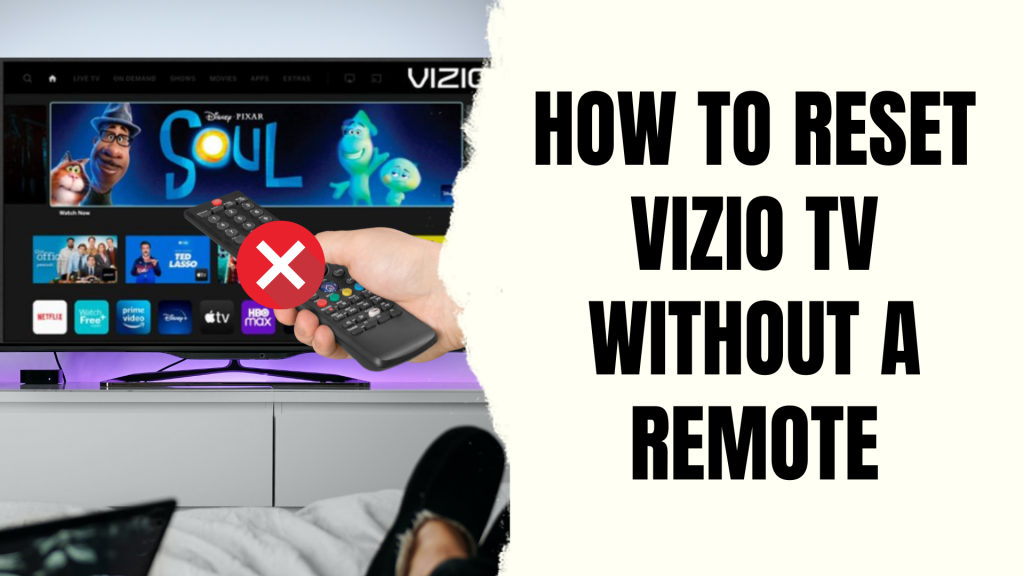 How to Reset Vizio Smart TV with SmartCast Mobile App
In order to reset your Vizio Smart TV with a remote you may need to download the Vizio SmartCast app (recently shortened to VIZIO Mobile) to your mobile phone.
Note: It's a good idea to have the VIZIO Mobile app already on your phone for situations like this when you need to reset your TV or connect to WiFi without a remote handy.
You can download VIZIO Mobile here: iPhone | Android
Once you have downloaded the app, follow these instructions:
Open the VIZIO Mobile app and sign in with the credentials for your Vizio account
Scan for devices close by, and then choose your TV
When you choose the TV, a number code will show up on the TV
Use the VIZIO Mobile app to enter the number code
Now that the app is linked to the TV, it can be used as a virtual remote
Now chose: Settings>>System>>Reset and Admin>>Reset TV to Factory Defaults
0000 is the code to use if the TV asks for a code.
All of your data will be lost, and your Vizio TV will restart
Without using a remote, your Vizio TV is now back to its factory settings.
How to Soft Reset a Vizio TV
Although Vizio is well-known for producing televisions that have a long lifespan, they do sometimes run into software issues.
By doing a soft reset on the device, these issues can be fixed quickly and effectively without the need to restore your TV back to its factory settings.
In the end, hitting the power button won't truly restart your television set. When you push the off button on your TV, it goes into standby mode. However, this can lead to a buildup of problems in the TV's software over time.
1. Make Sure to Unplug Your Television from the Wall First
Disconnecting your TV from the wall socket may seem like an obvious solution, but it is the most common way to get it to turn on again.
2. Wait for a FULL One Minute!
Set the timer on your iPhone, stare at the microwave clock, or count slowly to sixty.
However it is you have to keep track of the time, just please wait until a FULL minute has expired before you plug your TV back into the wall.
3. Plug the TV Back into the Outlet and Switch it On
The final step is to plug the TV back into the outlet (wall or surge protector).
Your Vizio TV should power back on, and there is a good chance your problem will be fixed!
Buy a Replacement or Universal Remote Control
If none of the solutions we've proposed so far are helpful for your situation, then maybe it's time you purchase a replacement Vizio remote or a Universal remote control.
You may be able to buy one directly from Vizio in some instances; however, other ecommerce solutions like Amazon should offer one that is compatible with the model of your Vizio TV.
Once it is connected, the remote can be used to explore the Settings menu and locate the option to reset the device to factory settings.
Frequently Asked Questions
Here are answers to some of the most frequently asked questions about resetting a Vizio TV 👇
When should I reset my Vizio Smart TV?
When electronic gadgets fail to function properly, a reset is typically the first repair hack that should be considered in order to restore all of their capabilities.
Below are several compelling arguments in favor of resetting your Vizio TV:
When the picture on your TV judders or freezes
Even after repeatedly pressing the power button, the television won't turn on.
Connected apps suddenly stopped working
The TV displays nothing but a black screen
Lost password(s)
Trouble connecting to WiFi or internet
TV is having trouble playing back either audio or video (or both)
How do I manually reset my Vizio TV?
Clear the TV's memory and then reset it to factory settings, if necessary.
Press the Menu button on the remote for your Vizio TV
Use the remote's arrow keys to select System, then press OK
Select Reset & Admin and hit OK
Highlight Reset TV to Factory Defaults and press OK
If you have not manually reset the parental code, please input 0000 when it asks for the password
Highlight and press OK
Wait for the TV to turn off
(The TV will now turn back on and the Setup app process will begin)
How do I force restart my Vizio TV?
First, disconnect your TV. After that, unhook the power cord from the back of the television or from the socket, whichever is more convenient for you. Then, turn the TV off by pressing and holding the power button for three to five seconds.
At this point, all that's left to do is reconnect the cable and power up the television.
How do I reset my frozen Vizio TV?
You can try resetting the TV by first unplugging it, then pressing and holding the power button (on the TV set) for thirty seconds, and finally letting go of the button.
After that, wait ten minutes, unplug the television, and plug it back in.
Then, press and hold the power button on the television until it turns back on.
In Conclusion…
Even without the remote, resetting a Vizio TV is a pretty simple process. If you are still having problems after cycling the power supply, doing a factory reset is a good option.
Let's recap the steps you should take to reset your TV without a remote control handy:
Factory reset the TV by using the buttons located on the underside of the unit
Factory reset the TV by using the VIZIO Mobile app (formerly known as SmartCast app)
Soft reset the TV by power cycling it
Purchase a replacement or universal remote control to perform a factory reset
Hopefully, after reading this guide and trying one of the four methods we outlined for resetting a Vizio TV without a remote, you'll be able to get back to viewing your favorite shows in no time!