What is the Vizio TV Black Screen of Death? (And How to Get Rid of it) [2023]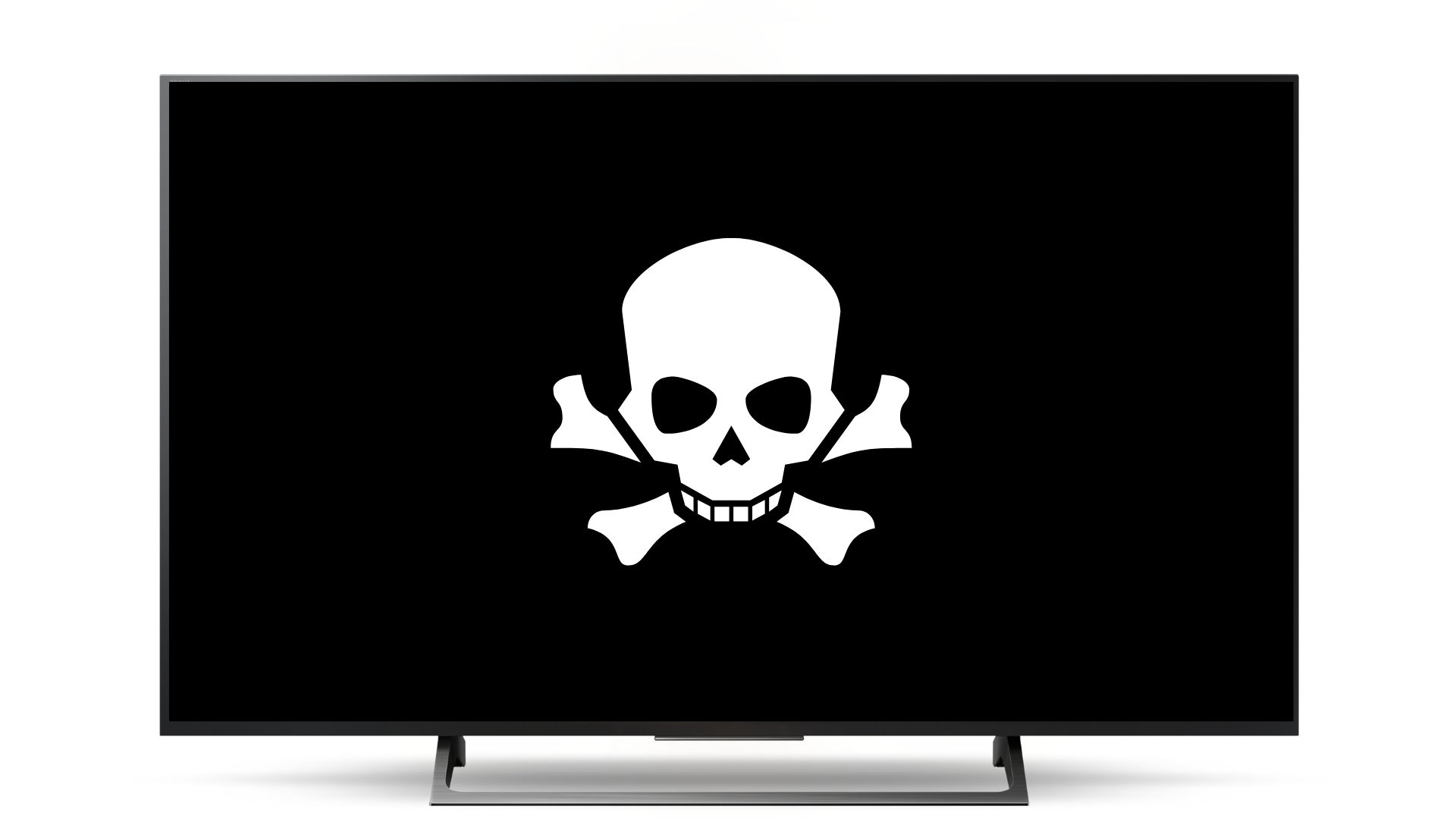 It's possible that the screen on your Vizio TV will suddenly turn black. This phenomenon is commonly referred to as "the black screen of death".
There are many reports from people who own Vizio TVs that they have had this issue. Some people say it's been going on for years.
If you're having trouble with your Vizio TV, there are several reasons for it to show a black screen as well as many ways to fix it.
ℹ Vizio has a black screen? Try this quick fix first…
If your Vizio TV has the black screen of death, you must reset it. Unplug your television from the wall and wait exactly 60 seconds. Next, reconnect your TV to the power source. This will perform a safe soft reset on your TV, allowing it to start right up and display video without any issues.
The above method is called a "soft reset" and will most likely cure the issue, but if it doesn't don't worry….because we have compiled a list of alternative ways to fix your Vizio TV Black Screen of Death problem.
How to Troubleshoot Vizio TV Black Screen of Death
Perform a Sound Test (Don't Jump to Conclusions)
Before you jump to any conclusions about having the "black screen of death" you should keep it simple and first make sure it isn't just a power or connection concern.
Turn on your Vizio TV
Increase the volume using your TV's remote control
Listen for any sound emitting from your smart television
If you don't hear any sound then you need to test for power and connection issues.
If you do hear sound coming from your TV's speakers…you may indeed have "the black screen of death" and should follow the next steps to determine if a faulty backlight is the cause 👇
Check for a Malfunctioning Backlight (The Flashlight Test)
The black screen of death on your Vizio TV is most likely the result of a broken backlight.
Luckily you can use a basic flashlight found in any home to see if your Vizio TV's backlight is broken.
The flashlight test can be performed as follows:
Make sure you have a working flashlight
Dim the lights (Make it as pitch black in the room as you possibly can)
Hold the flashlight less than an inch away from the screen and turn it on
See if you can make out a picture on the screen
Check the screen with the flashlight to see if anything is visible
In the event that you see an image on the screen, your backlight may need to be replaced
You'll need to call Vizio customer support if the backlight is diagnosed as faulty.
Remember only a certified technician should open the TV's back to replace any hardware components.
Make Sure the Power Outlet Works
Ensure the outlet works properly by plugging in another gadget you know will function like a phone charger.
It's easy to tell if the outlet is to blame if you plug the other end of the charger into your phone or tablet and it doesn't charge.
If this is the case your power outlet may be the root of the problem.
Reconnect the smart TV once we've verified the outlet works.
It's important to ensure the cord is securely attached to the wall and the television.
Still not working. Time to move on to the next step 👇
Make Sure Your Surge Protector Works (Optional)
It's important to test the status of a surge protector if you use one.
Unplug your TV from the surge protector and plug a known working device in its place.
Make sure the surge protector is properly plugged into the power source and try powering the device on.
If your device doesn't power on, replace your current surge protector and see if the TV will power itself on.
Is the Power Cable Loose? (Or Damaged)
The first step you should take when evaluating the power cable of your Vizio TV is to visually inspect the cord for any physical damage.
Is there any tearing, fraying, or exposed wires? If so you may have a damaged power cable which could make one think they are experiencing the Vizio black screen of death.
Order a replacement and see if that solves the problem of your smart TV screen not displaying an image.
Incorrectly or loosely connecting your TV power cord to a power source can impair the TV's connectivity.
Next, verify that the TV and power outlet connections are both properly and completely plugged in.
Keep in mind that if the power cord is connected to the power source a little bit loosely, the electricity can't flow to the TV and it won't turn on.
Unplug the power cord from the back of the TV, then re-plug it correctly.
Disconnect All Other Devices
If nothing has fixed your black picture problem yet, then disconnect all other devices from your Vizio TV to see if they are contributing to the problem.
Some devices you want to disconnect include:
Streaming sticks/boxes
Gaming Consoles
DVD Players
Disconnect each of them one by one to diagnose if any of your devices is causing the black screen of death.
While it's a long shot, there are users that have reported external devices as the culprit for their TV picture not displaying properly.
No luck yet? It's time to dive deep into your Vizio TV's software configuration 👇
Update Your Vizio TV's Software
If the software on your smart TV is out-of-of-date, you may encounter a variety of problems like the black screen of death, a flickering screen, and even the Vizio display blinking on and off.
Checking for and installing new Vizio TV OS updates can often be the solution to your problem.
It's as simple as checking to see if your TV model has a firmware update available. Sometimes these updates are missed, but they are usually done automatically.
First, turn on your Vizio TV and press Menu on the remote. After that, select System from the drop-down menu.
Click on Check for Updates if it appears.
The Vizio TV Firmware Upgrade is now available for download.
Now, your TV will automatically start looking for updates.
If there are any software updates available for installation they will be done automatically by your TV.
Make sure to keep your Vizio TV up-to-date with the latest software by performing regular updates.
How to Factory Reset a Vizio TV
The factory reset option is recommended if either of the two steps above fixes your Vizio TV black screen problem, but the problem returns at a later date.
If your Vizio TV isn't properly displaying video, it could be because of a software error. A factory reset of your television can resolve this.
If you have access to a functioning remote control then try this method first (It's the easiest):
To access the menu, press the Menu button once the TV has been turned on (you may have briefly powered it up by disconnecting it or removing the remote batteries).
Click the System option that should be present in the menu.
Find Reset & Admin and Reset TV to Factory Defaults and then press Reset
Before performing a factory reset, the TV may request a code from the user. If it does, the default code is 0000, which is four zeros.
If you can't find your remote or it doesn't work then try performing a factory reset by using the buttons located on the Vizio TV itself.
Find the Power (which is normally located on the side of the screen) and press it to turn the TV on
Hold down the Volume and Source buttons
A few seconds later, the TV will display a message that says Press and hold the input button for a few seconds
About 10 seconds after pressing Input, let go of the button
The TV will immediately reboot and enter factory reset mode. Rebooting and resetting your TV takes a few minutes.
Once the process is finished, your Vizio TV will return to the settings it had when it was purchased.
Still, having issues? It might be time to call in the professionals…
Contact Vizio Customer Support
Contacting customer support may be necessary if none of the above solutions work for you.
Vizio customer support is available via text message, internet live chat, and phone.
You can contact customer support at 1(844) 254-8087 if you want to speak with someone directly.
Customer service hours are 8:00 a.m. – 11:00 p.m. Central Standard Time, Monday through Friday
On the weekend the hours are 8:00 a.m. – 9:00 p.m. CST
You can also try out the Text Support or Live Agent Chat options if you prefer to communicate via typing.
While contacting support may resolve the issue, there may be other problems with your TV that you are unable to resolve on your own.
They can help you by working with you over the phone or by providing instructions on how to send in your TV for repair, if necessary.
Before contacting Vizio, verify that you have a warranty.
When you purchase a TV from Vizo, it comes with a standard one-year warranty.
If you purchased an extended warranty from a retailer like Walmart or Best Buy, verify what the terms and length of that third-party warranty entail.
Other Options (Nothing Has Fixed the Problem)
If you can't find a solution to your Vizio TV black screen of death problem, and your TV is out of the warranty window then you really have two choices:
Purchase a New Vizio TV
If your Vizio TV is out of the warranty window, it may make more sense just to purchase a new television set altogether.
Smart TVs have never been so inexpensive, so you may be able to get a brand new TV that's larger and has upgraded features for the same price (or less) as fixing your current model.
Repair your Vizio TV
You have the option to send your TV back to Vizio for repair, even if it isn't covered under the initial warranty.
But a certified repair specialist in your area is most likely the best option.
In order to dismantle something, you must be extremely careful. There are a lot of fragile wire connections and high-powered circuits in the TV that might cause damage (or even electrocution) if you make the wrong move.
This is why we suggest sending your smart TV back to the factory (even if the warranty has lapsed) or finding a certified TV repair specialist on your own.
Unless you are highly skilled at fixing electronics we never recommend trying to replace internal parts (like a backlight or power inverter) yourself!
Frequently Asked Questions
Here are answers to some of the most frequently asked questions about troubleshooting your Vizio TV that has a broken screen 👇
What is the Vizio TV black screen of death?
The "Black Screen of Death" on a Vizio TV is a problem that happens when the input source can't send the data into the television. Having trouble with your Vizio TV's screen going black? In reality, these problems happen often on any electronic device with a screen.
How do you know if your Vizio TV blew out?
How to know if your TV died:
Make sure that the TV is plugged into an electrical outlet
If the TV won't turn on, try plugging it into a different outlet
Turn on the TV….
If your TV still won't turn on, you should call a TV technician
In Conclusion…
As mentioned previously, your Vizio television may display the black screen of death for a variety of reasons.
Here is a summary of the ways to fix your Vizio TV when there is a black or dim screen:
Perform a soft reset
Do a sound test
Check for a malfunctioning backlight
Make sure the power outlet/surge protector works
Confirm if the power cable is loose or damaged
Disconnect all external devices
Update software
Factory reset TV
Contact Vizio customer support
Purchase a new smart TV or hire a certified repairman to fix the current unit
Let me know if this managed to help you fix your Vizio smart television. Leave a comment if you have a different tip or method that helped you get your rid of the dreaded black screen of death!