Roku Won't Connect to WiFi [2023]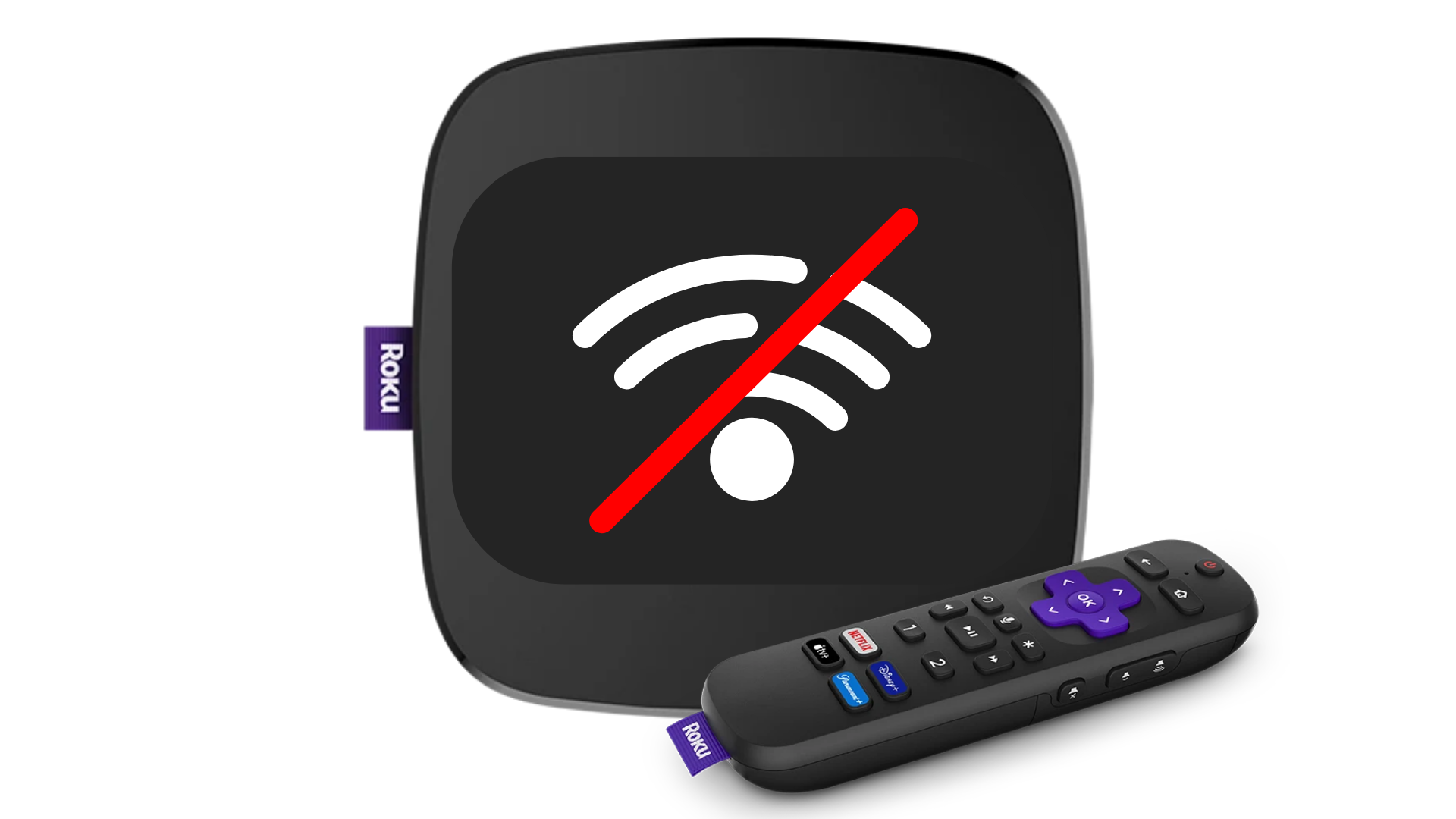 In this day and age of streaming devices, the fact that your Roku may occasionally struggle to connect to WiFi can be an extremely irritating experience.
Streaming networks such as Netflix, Hulu, Amazon, and Apple TV are all examples of services that require a reliable internet connection in order for users to view their content.
Thankfully you won't have to waste time contacting Roku customer service to fix your Roku WiFi if you follow our detailed guide.
ℹ Roku not connecting to WiFi network? Try this quick fix first…
If your Roku won't connect to WiFi, you must reset it. Unplug your Roku from the wall and wait exactly 60 seconds. Next, reconnect your Roku to the power source. This will perform a safe soft reset on your Roku, allowing it to start right up and connect to WiFi without any issues.
The above method is called a "soft reset" and will most likely cure the issue, but if it doesn't don't worry….because we have compiled a list of alternative ways to fix your Roku won't connect to WiFi problem.
How to Troubleshoot When Roku Won't Connect to WiFi
Check for ISP Service Outage (Is your Internet Down?)
I would first check to see if your Internet Service Provider (ISP) is experiencing an outage if your Roku won't connect to WiFi.
You can check your ISP's account portal to see if there are any outages in your area.
If there is an outage, most ISPs will provide an estimated time for restoration of internet service.
Remember, if your internet is down then NONE of your internet-connected devices will be working.
Test your WiFi Speed & Signal
If you are able to access the internet from all of the devices that are connected to your wireless network except for your Roku then it is likely that you will need to investigate an issue with the Roku itself.
If other devices are having trouble connecting to your WiFi network, you have a much deeper problem with your home's internet connection.
It never hurts to run a speed test to help troubleshoot the issue. If your wireless network is slow, it could be a problem with your internet connection, not your Roku.
We've even provided you with a handy speed test tool below 👇
Verify You're Using the Correct Password & Network
Make sure you've entered the correct password into your Roku settings and that you're attempting to connect to the correct WiFi network before continuing.
When your Roku loses connection to your wireless network for any reason, it will automatically try to reconnect to another nearby network.
Simply check to see if your Roku is still trying to access to the right network.
Move Roku Closer to Network Equipment
If the signal strength is low, you can try moving your network equipment (router/modem) and Roku closer to each other. This can improve the strength of the connection.
It is important to remove any physical obstacles that may be in the path of the network connection between your network equipment and your Roku player in order to maximize its performance.
Remember, the greater the physical distance between them, the less the signal strength and the connectivity to the internet will be.
Restart Router and/or Modem
To access a WiFi network, your streaming device needs a working router or modem to make a connection.
Unplugging and re-plugging them is often all that is required to fix a Roku not connecting to WiFi.
However, it may take a few minutes before your Roku is able to connect to the Internet once everything has fully reset (lights will be blinking on and off).
If all other suggestions in this article fail, you may want to perform a factory reset on your modem or router.
You should be able to turn them on and off either with a paperclip or a ballpoint pen by pressing a small button located on the plastic shell.
Keep in mind that you'll need to restart your Roku's wireless setup and reconnect all of your devices to the new network.
Factory Reset Roku
The factory reset option is recommended if nothing else solves your Roku not connecting to WiFi problem.
If your Roku has an issue with network connectivity it could be because of a general software error. A factory reset of the device can resolve this issue.
If you have access to a functioning remote control then try this method first (it's the easiest)
To access the menu, choose Settings
Click the System option that should be present in the menu.
Find Advanced System Settings
Click Factory Reset
After entering the four-digit code that is displayed on the screen, you will be prompted to press the OK button on your remote control.
Once the process is finished, your Roku will return to the settings it had when it was purchased.
Note: A factory reset can also fix a variety of issues like the Roku remote control volume not working or not being able to watch YouTube on your Roku.
Optionally, you can perform a hardware factory reset by pressing the reset button with your finger or pressing the pinhole on the back of your Roku with a paper clip.
Once you've found the reset button, you need to push it and keep your finger on it for roughly ten seconds.
After the reset has been successfully completed, the LED indicator will begin flashing rapidly.
Switch to Wired Connection (Use an Ethernet Cable)
If nothing else works you an try connecting to the internet by using an Ethernet cable instead of a WiFi connection.
This option is not available for the Roku Stick, but it is ideal for the Roku TV and Roku Player.
If your model of Roku does have an Ethernet connector, you can use an Ethernet cable to connect it directly to your network equipment.
A faulty wireless adaptor in the Roku itself may be to blame if this fixes the issue.
Roku Warranty Information
The good news is if you believe that your Roku is not operating properly due to faulty workmanship or material defects you may be able to exchange your unit for a new one so long as it was purchased less than a year ago.
You may also get a full refund on any device purchased directly from the Roku website if it is within the 30-day money-back guarantee period.
Roku's customer support has been kind enough to provide an article with step-by-step instructions for returns and warranty replacements.
If you purchased an extended warranty from a retailer such as Walmart or Best Buy, check the terms and length of that third-party warranty as you may be eligible for a refund or replacement unit even if you are outside of the official Roku policy's window.
Other Options (Nothing Has Fixed the Problem)
If you can't find a solution to WiFi not connecting on your Roku, and it is out of the warranty window then you really have 3 choices:
Purchase a Replacement Roku
If your Roku is out of the warranty or return window, it may make more sense just to purchase a new Roku altogether.
Streaming devices have never been more inexpensive, so you may be able to get a Roku that's newer and has upgraded features for the same price (or less) than what you originally paid.
Switch to a Different Streaming Device
While Roku is one of the best streaming devices on the market, there are plenty of other quality choices in the same price range.
Our favorite alternative to Roku is the Chromecast w/Google TV.
Is it Time to Upgrade your Smart TV?
If you have an older TV, it might be a good idea to upgrade it.
Many of the newest smart TVs have the same apps preloaded as your Roku does.
Some brands like TCL even use the Roku operating system as the hub for their streaming apps.
Frequently Asked Questions
Here are answers to some of the most frequently asked questions about troubleshooting your Roku that won't connect to WiFi 👇
Why is my Roku not connecting to WiFi?
In the event that you are unable to connect to the internet, you should attempt to restart your router. If a reboot does not enhance your connectivity, the problem may be with the intensity of the wifi signal. Your wireless signal will be reduced in strength the more away your Roku is from your router.
How can I connect Roku to WiFi without a remote?
You must first download the Roku Official Remote Control app on your phone:
Join the same WiFi network as the Roku
Download the Roku application, launch it, and then select Devices in the bottom-right portion of the display
When your Roku appears in the app, tap it
You should now be using your phone as a remote control for the Roku. On the Roku's home screen, tap Remote, then choose Settings, and finally Network.
Click Set up connection, and your Roku will start looking for a stable WiFi signal. Select the one you prefer and then input the correct password
Why won't my Roku connect to WiFi After resetting?
If you are receiving WiFi error warnings on your device, you can solve the problem by power cycling the router and restarting your Roku. The problem with the internet connection can be fixed by performing a reboot, which will also restore the network. After finishing the process, your Roku ought to be able to connect to the WiFi network of your choice.
In Conclusion…
As mentioned previously, there are a number of ways to fix your Roku won't connect to WiFi problem:
Perform a soft reset
Check for service outage

Test WiFi connection

Make sur

e you are using the correct password and WiFi network

Move Roku closer to network equipment

Restart modern and/or router

Connect with an ethernet cable

Check warranty information
Upgrade/change streaming device or TV
I really hope that this helped you fix your Roku won't connect to WiFi issue. If you were able to find a solution to the problem by taking a different approach, we would greatly appreciate it if you would share your findings with us in the comments area below.👇