Fix Roku Low Power or "Insufficient Power" Warning [2023]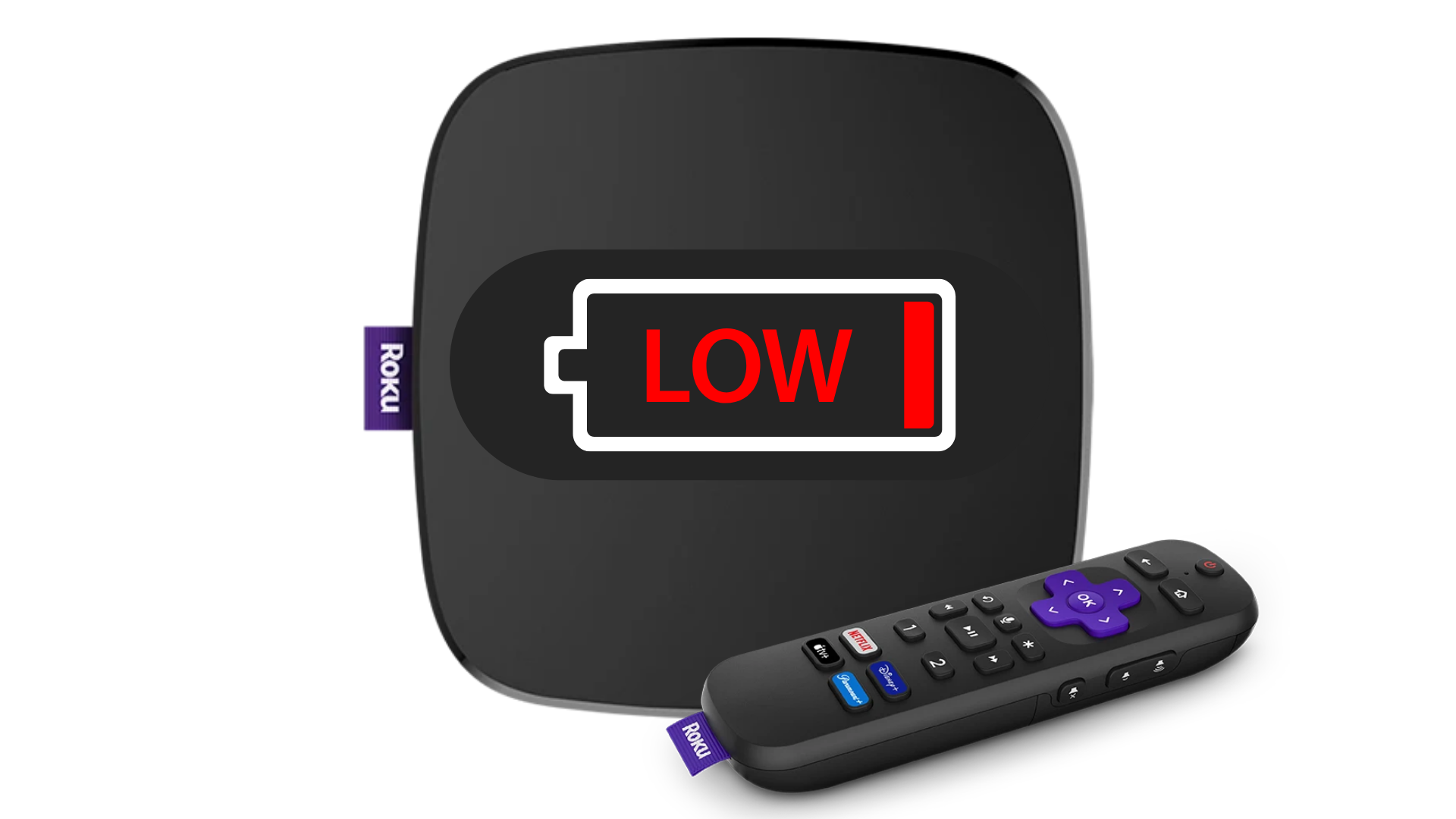 Roku streaming devices on average, consume very little energy when in use.
However, it turns out that the USB connector on the back of your TV only has the capacity to produce about 2.5 watts of power on average, which oftentimes isn't even enough to sufficiently power your energy-efficient Roku.
When this happens you will get the dreaded "low power" or "insufficient power" warning displayed on your TV screen.
Fortunately, there are some tried-and-true solutions you can employ to solve this common Roku problem.
ℹ Try this quick fix first…
The Roku low power warning message appears when you attempt to power your Roku device by connecting it to the USB port located on your television. It is just not possible for some televisions to supply adequate electricity in this manner. Instead, connect the Roku to its power cable or adapter, and then plug the Roku into a power outlet or power strip.
The above method will most likely cure the issue, but if it doesn't don't worry….because we have compiled a list of alternative ways to fix the problem of a Roku Low Power warning.
How to Troubleshoot Roku Low Power Message
Plug Roku into Different USB Port on TV
Changing the USB port on your TV you use to power your Roku device may be the answer to your power woes.
Given that different USB ports have varying levels of power delivery, it's feasible that switching to a different port could work.
Test all of the available USB ports on your TV and see if one of them fixes your problem.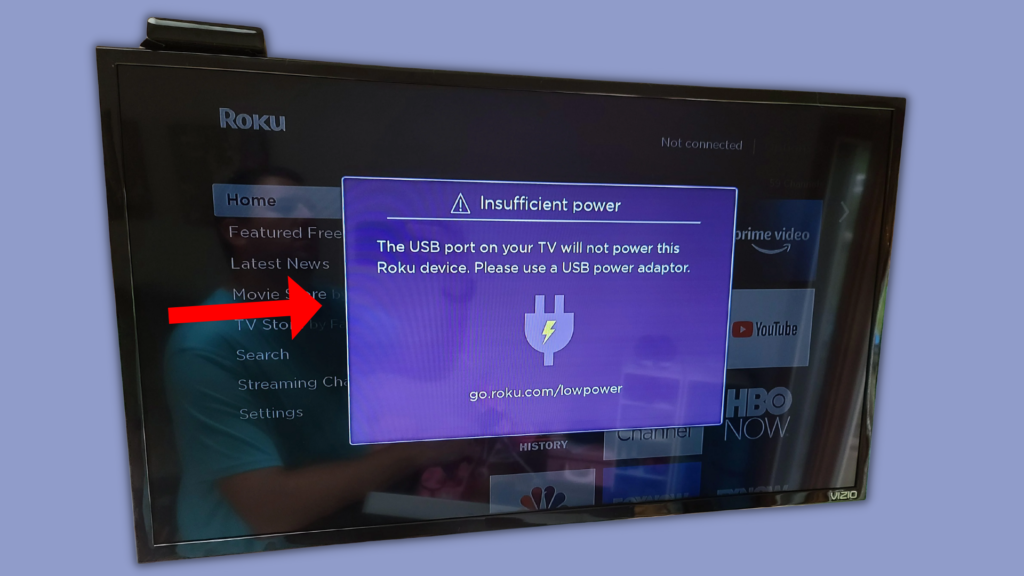 Use the Offical Roku USB Cable
If you are like most people, you probably have a box stowed away somewhere that is filled with extra cables.
You may be tempted to use spare cables laying around the house, unaware that they don't deliver the same amount of power as the official cables that come with the Roku.
For optimal performance (and to get rid of the low power message), it is preferable to swap out any third-party or replacement cables with the official Roku USB cable.
Power Cycle the Device
Sometimes fixing the "low power" warning is as simple as power cycling your Roku device.
Follow these instructions to safely execute a power cycle:
Turn off the Roku and remove it from its power supply
Wait a full 60 seconds
Reconnect its power adapter to the socket and power on your Roku
Check to see whether all apps and menus are functioning normally
Note: Power cycling can fix a variety of common problems such as Netflix not working on Roku and flashing lights on the remote.
Perform a System Restart
You can also restart your Roku without disconnecting it from the power supply using an internal software mechanism.
To do so, follow these steps:
Turn on the Roku device and navigate to Settings >> System with its remote
Select Power, then System Restart
Wait for the device to switch on
Check to see whether all apps and menus are functioning normally
If this doesn't work there is still one more solution to resolve the Roku low power message.
Clear the Roku Cache
If switching from USB power to a wall outlet isn't getting rid of the "low power" or insufficient power message on your Roku, the next course of action is to reset it.
You can reset your Roku using the following steps:
Press the Roku remote's Home button 5x
Then, press Up 1x and Rewind 2x
Finally, press the Fast Forward button 2x
This will perform a safe soft reset on your Roku, clearing the device cache and allowing it to start right up and work without any issues.
Other Options (Nothing Has Fixed the Problem)
If you can't find a solution to the Roku "low power" warning, and your device is out of the warranty window then you really have two choices:
Purchase a Replacement Roku Device
If your Roku is out of the warranty or return window, it may make more sense just to purchase a new Roku device altogether.
Streaming devices have never been more inexpensive, so you may be able to get a Roku that's newer and has upgraded features for the same price (or less) than what you originally paid.
Purchase a New Smart TV
If you have an older TV, it might be a good idea to upgrade it.
Many of the newest smart TVs have the same apps preloaded as your Roku device does.
Some brands like TCL even use the Roku operating system as the hub for their streaming apps.
Therefore, if you are looking to replace your broken Roku, you might receive more value for your money by purchasing a new smart TV instead of a replacement Roku!
Frequently Asked Questions
Why does my Roku lose power?
Once your TV enters standby mode, the USB port that powers most Roku devices will stop receiving electricity. This means that whenever you turn on the TV, your Roku device will also start-up.
Which Roku uses the least power?
The Roku Streaming Stick uses the least amount of power. It only uses 2 watts per hour.
Can you power Roku with USB?
Roku can be powered with a USB port to stream media. Plug the Roku into a USB port to access streaming apps.
Should I unplug my Roku at night?
Roku streaming players are low-power products that are designed to always remain on and connected to the internet. They also do not require any manual startup procedures. There is no power button that may be pressed to turn the device on or off.
In Conclusion…
I hope this article helped you figure out how to fix the "low power" message on your Roku. Don't hesitate to leave a comment in the section below if you need more help or have found a different way to fix the problem!